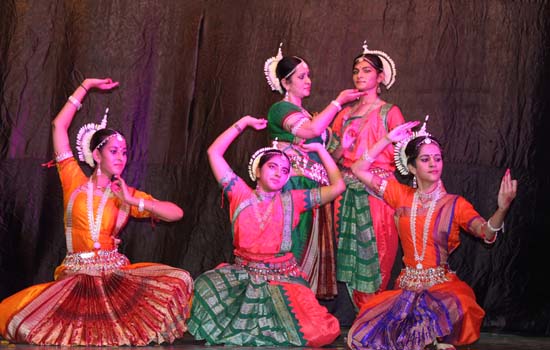 Udaipur: This the 71st Sarvjanik Ganeshotsav,oldest in the town organized by Maharashtra Samaj started on Ganesh Chathurthi,25 Aug..The 12 days festival commenced with classical Music and Dance concerts named "Gaayeye Ganpati".
Odissi dance recital presented by Venu Naad Kala Kendra,Vrindavan with its branch in Udaipur. 12 junior and senior artistes enthralled audience with the captivate graceful movements.The concert started with MANGALACHARAN which was presented by very young girls namely Vrindavani Sharma, Arya Gupta, Nehal Vashistha, Sanskruti Agrwal, Navya Singh, Janhavi Singh and Anchal Bedi. These cute looking little princes displayed invocation of Lord Jagannath followed by Ganpati and presented TRIKHANDI PRANAM. This traditional composition included gratitude to All Mighty God,Guru and the Audience.
It seemed that these little children made full efforts to learn this difficult classical dance form. Next presentation, ALIT LABHANG, was an episode from the famous creation Geet Govind by the great poet Jaydev based on Raag Basant and Taal Triputa. The divine love of Radha and Krishna was felt during this graceful performance by Dr. Pallavi Sharma and Malhar Sharma.
The team of little children also presented STHAEE showcasing the dancing idols of Konarak and Puri temples exhibiting various forms and expressions.This compassion was based on Carnatik raag Shankaravarnanam and Ek Taal. This group also presented a choreographed dance "EK DANTAY VAKRATUNDAY DHEEMAHI" and won hearts of audience.The Show concluded with senior group performance "SAVERI PALLAVI". This showed the perfect combination of Swar, Laya and Taal starting form low key and concluded with Drut Gati (Fast movements).
This was presented by Himanshee Khandelval, Malhar Sharma,Shivika Mathur, Dakshayani Sharma and Dr. Pallavi Sharma.All the performances proved that Classical Dances can be learnt and presented with equal perfection if the Guru is competent and the disciples are also committed. Hat's off to Guru Pratap Narayan ji who comes from Vrindavan to take special tutorials at the Udaipur. His passion for serving this Classical dance form will go a long way to make this Smart City known for Odissi Dance Institution.
"GAAYIYE GANPATI" was concluded with soulful divine Bhajans by young and talented singer Ishita Kavitkar. She rendered Bhajans like "Rakh laaj more Ganpati", "Gayeeye Ganpati Gaj Vandan" and "Pratham Tula Vandito". She was accompanied by Bhuwan Sharma on Harmonium and Jovial Sinha on Tabla. President of Mahrashtra Samaj Satish Saikhedkar honored Guru Pratap Narayan ji by presenting Uparana. Ulhas Neve, Secretary told that the programmes of Ganeshotsav have been conceived to enrich our cultural heritage.
- Vilas Janve
यह खबर निम्न श्रेणियों पर भी है:
Headlines today News
,
Udaipur News