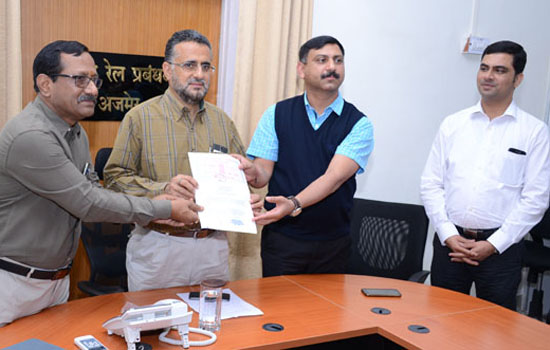 Udaipur: Bike Railway workers and Ajmer division's officers are constantly trying to get the best medical facilities. On 26th July 2017, in the dignified presence of Shri Punit Chawla DRM Dr.K. Mishra, divisional Chief Medical Superintendent, Railway Hospital and Executive Officer Mr. Kishor Pujari of Geetanjali Medical College Hospital, Udaipur signed the MoU.
Speaking to the reporters on the occasion, DRM Shri Chawla said that the Memorandum of Understanding is for two-years .The staff will get treatment on cashless basis and reimbursement by Railways to Geetanjali Hospital will be at CGHS rates.
The MOU includes CTSE (Cashless Treatment Services in Emergency) which will be launched shortly in Ajmer Division.Geetanjali Hospital has a 150-bed super multi-specialty hospital, which includes cardiology, cardiothoracic surgery, neurology, neurosurgery, gastroenterology, gynecology / obstacles, ENT, ICU facilities.Railway employees of Udaipur, Mavli, Dungarpur, AbuRoad, Sirohi, Bhilwara. Will be benefitted Excellent medical facilities will be available for officers and their dependents, even retired officer / staff and their families were also able to take advantage of these fecilites
It may be mentioned that Ajmer division has already been listed for Mittal Hospital, Ajmer for Cardiology and Critical Care Dialysis, Deepamala Pa grani hospital and GBH American Hospital in Udaipur are already listed for the care of Railway employees and officers and their dependents and now Geetanjali Hospital has also been included in this list.
Global Trauma Hospital has been listed for rail employees in Abu road, run by Brahmakumari. Apart from this, the Divisional Railway Hospital Ajmer has been greatly improved and the hospital is doing nearly 102 surgeries per month, such as normal, arthroscopic, eye-like IOL, laparoscopy, and complete knee implant surgery.
यह खबर निम्न श्रेणियों पर भी है:
Udaipur News