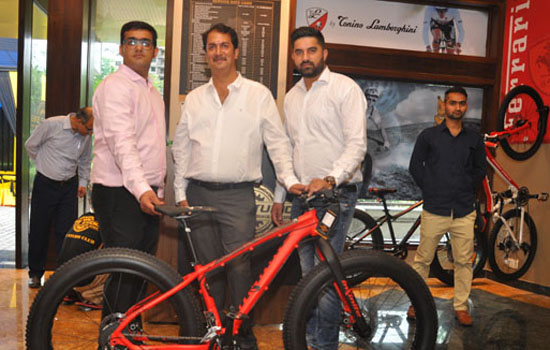 Udaipur: Bike studio, launched in Shobhgpura Udaipur on Monday to provide world class cycles. The showroom was inaugurated by Srichand Dambla. In this show room, there will be available state-of-the-art cyclists worth 3,5 to 3 lakhs.
In the press conference organized on this occasion, Srichand Dembla said that the company currently has 9 show rooms all over India while this is the third showroom in Rajasthan after Jaipur and Jodhpur in Udaipur. Soon, we plan to set up the fourth showroom in Kota.
He told that the first cycle was used to move from one place to another and to bring the goods, but nowadays it has been replaced by bikes and other means.
Now the young and elders can use it only by practicing and practicing. Keeping this in mind, the features of these cycles have also been kept in mind.
He told that the company has a factory in Belgium.
It also produces up to 10 lakhs of cycles but it is made available only on the basis of the norm.
He said that keeping in mind the customers' demand and their convenience, efforts will be made to start the financing facility some time later.
The owner of this franchisee Sanjay Dambla said that the bike studio aims to encourage people of all age groups to run cycles.
यह खबर निम्न श्रेणियों पर भी है:
Udaipur News