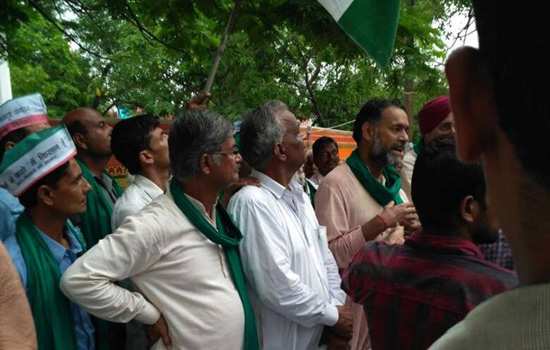 Udaipur : "Peasants are forced to commit suicide because of poverty and when they raise their voice they are shot at by the state police. This is the most anti-peasant government India has seen." This was stated by activist and journalist Yogendra Yadav in a public meeting organized at Mohta Park Udaipur. He had come with a march organized by Akhil Bhartiya Kisan Sangharsh Samanvaya Samiti which started from Mandsour in Madhya Pradesh and is scheduled to reach New Delhi on 18th where it will culminate into a massive demonstration at Jantar Mantar. Yogendra Yadav talked in details about the plight of farmers in the whole country and said that the peasant is not in the priority of the union government. Addressing the meeting former MLA and fire brand peasant- leader Dr. Sunilam said that the union government is doing this only to facilitate the corporate who want to appropriate the land of peasants by hook or by crook. The state is playing the role of a facilitator for the capitalists, he said. He demanded that case of murder should be filed against the police men who opened fire on the peasants .
National President of Akhil Bhartiya Kisan Sabha Comrade Amara Ram said that the peasants hae been always exploited but the BJP government has destroyed the hope of the peasants. He said that the peasants, labour, working class and the entire people who believe in justice should fight the government and set up new agenda of equality and justice for all. The Abhiyan demanded adequate price of the produce of the peasants and freedom from the loan they are unable to pay back.
Earlier at Badwani the activists of Narmada Bachao Andolan also joined the Yatra and participated in the public meeting. The Akhil Bhartiya Kisan Sangharsh Samanvay Samiti also reciprocated by supporting the agitation of NBA activists. Among other people Medha Patkar also addressed the meeting at Badwani. In Udaipur Peasant leader Rampal Jat, CPI(M) leader Rajesh Singhvi, CPI ( ML) state Committee member Shankar Lal Chaudhary, Himmat Seth, Advocate Arun Vyas, Prof. Hemendra Chandalia, Ramesh Nandwana, Ashwini Paliwal, Dr. Veena Dwivedi, Comrade C.D.Ola, Comrade Lala Ram Jat, Dr.L.R.Patel, Dharmendra, Comrade Meghraj Tawar, Comrade Prem Singh Gahlawat , Comrade D.S.Paliwal etc. were present. Despite rains people participated in the meeting in good numbers. Besides these Chandrasekhar(Telangana), Gora Singh (Punjab), Lingraj (Odisha), Rashmi (Karnatak), Vimalnath ( Tamilnadu), and Parvati ( Madhya Pradesh) and one hundred fifty were participating in the meeting. From Udaipur the Yatra went to Chittorgarh.
Source :
Dr.H.S.Chandalia
यह खबर निम्न श्रेणियों पर भी है:
Headlines today News
,
Udaipur News