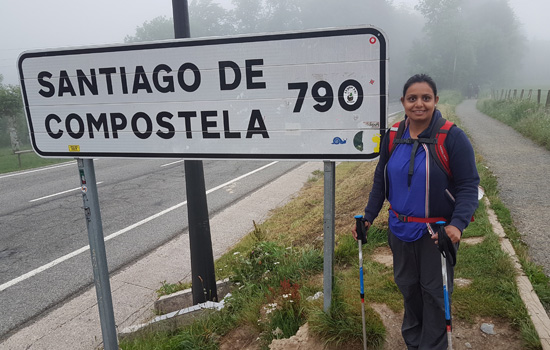 Udaipur: Shweta Dubey, a 32-year-old business-woman has scaled new heights in Spain making the whole country proud. Shweta has completed 900 kilometers of walk in Spain which is as sacred as is Amarnath Yatra in India.
Shweta became first Indian woman to scale this journey despite a lot of challenges.
The journey is taken by hundreds of thousands of people of various backgrounds along the Camino de Santiago, or Way of St James either on their own or in organized groups.
In this test, the most popular route is the French way which starts from St. JeanPied-du-Port near Biarritz in France. Shweta from Udaipur chose this route to start her journey followed by accepting the challenge from her husband Madhukar S Dubey.
This route is well serviced with small towns, ATMs and plenty of coffee shops but being a vegan, you better be ready to walk your way through the challenging landscapes on a diet of wafers, cakes, and biscuits mostly (even Eggs are rarely available in the shops for eggetarians).
Shweta became the first Indian women ever to walk the Camino and the journey took 40 days to complete the 900 km through everyday endless walking in the heat of 37 degrees.
She got her leg infected on the 12th day and doctors advised her to quit this idea of the walk further. She then made a tough decision to continue the journey with just a bag pack, a stick, and her countless thoughts along the path."Given a chance, would love to go once again" says Shweta.
Source :
- Prashant Shrivastava
यह खबर निम्न श्रेणियों पर भी है:
Headlines today News
,
Udaipur News