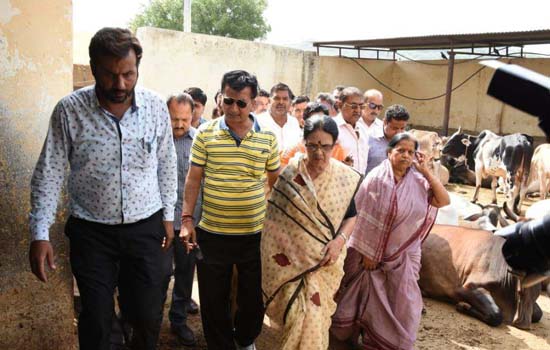 "Cain House's case of death of cows, Congress created committee, inspected by inspection report"
Udaipur: On Saturday, Dr., Girija Vyas, aiming at the death of cows in the Cain House's, targeted the Cain House's and said that this ministry is only made for politics. Even after the case of death of cows minister has yet to turn Udaipur till now.
Vyas told reporters that Home Minister Gulabchand Kataria is busy in laying down foundation stones hereanad there but no time to see the worst condition of Cain House's. So many cows are dying in their hometown. Regarding the new building of cain House, she said that the BJP has always used it until no lace will be used, the cain House will not start in a new building.
Congress District President Gopal Sharma and State Secretary Pankaj Sharma said that the city Congress has created six member committees, including the district chief Mohsin Khan, LN Dadhich, Sudhir joshi Trilok Purabia, Feroz Ahmad.
The committee will visit the Gaushalas and submit the report in a month.
Girija said that in the records of the corporation in Cain House, 150 cows have died in 6 months, but the people told that the actual figure is across 500. Girija has demanded the resignation of the mayor, including conducting the inquiry committee, post-mortem of cows
Financial anomaly can be easily seen, as despite having a handsome budget of more than ?1 crore for the Gau Palan, the government is not spending even ?2,000 per day on the maintenance of facilities at cow shelter. During my visit to the facility, I found that bovines have been kept in a miserable condition, it (the shelter) was overcrowded and unhygienic, the floor was covered with marsh and the place was so unhygienic and stinking that any individual cannot stand there even for a minute. In such merciless conditions the animals are housed there, which is somewhere pointing towards inefficiency of the government, UMC and the administration, following that it is mayor's duty to give resignation voluntarily," she said.
"During our visit, we ourselves discovered some recent cow deaths at the shelter, but the municipal corporation is still denying the fact by saying that many of the dead bovines were dumped there by the contractors after skinning, but what one of the UMC members told us about the number of deaths were in contradiction with the statement," Vyas added further.
Replying a question she said it is unfortunate that Anandpal Enkounter's information has been told by CM. At the same times, he said that the kind of GST supported by Congress was not the same as the tax system which we had approved, it is a different decision and taken hastily.