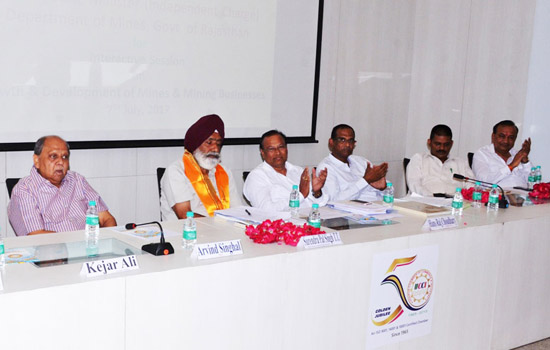 Udaipur: The three-day mining seminar that was held recently saw mining industrialists from across the country. Mining minister Surendra Pal TT also attended the seminar and termed this seminar as a milestone for the mining sector of the country. As per estimations, mining alone contributes about 7 percent to the GDP.
Mining is one of the biggest sources of employment of the Rajasthan state. Till data, 81 types of minerals have been discovered in state and mining is being done for another 57 minerals. The state has 34000 mines that give employment to 25 lakhs of people directly or indirectly. Mining is the third biggest contributor to the state economy. In the year 2016, the state received a whopping 52000 crores of rupees as revenue which is again the aim for this year.
The new mining policy was edited to ensure a conducive atmosphere in the state for this sector. "Many minor and major industrialists raised issues after the implementation of new mining policy. The government then listened to the issues and got amendments in about 70 percent rules," said the minister.
TT assured that the proposal and outcomes for innovation will be considered to create favorable conditions for the business. He also assured about the transparency through e-auction.
The minister apprised that more than one thousand mines will be allotted through e-auction. This figure is expected to touch 3000 mark by December 2017.Talking about the illegal mining, the Minister said that the punishment of six years has been provisioned and battalion has been deployed to keep a watch over any violations. "In last three years only, more than 14 thousand cases have been registered and more than 60 thousand crores of rupees have been recovered as a penalty," said TT. Arjun Lal Meena, Umashankar Sharma, Sunil Duggal were among the dignitaries who expressed their views on the occasion.
The valedictory function took place on Sunday which was presided over by Sh. Arun Kumar Kothari, President MEAI. Prof. P.K. Dashora, Vice-Chancellor, Kota University, Kota and Sh. D.S. Maru, Director, Mines & Geology Rajasthan, Udaipur and Prof. B.B. Dhar shared the dias as the guest of honour. Prof.Dhar presented the recommendations of the seminar. Mines secretary Arun Kumar listen the report patently and assured to review at official level
In UCCI minister participated in a symposium "The opportunities for progress and development of mining and mineral exploration business". In which other than TTMr. Dalichand Dangi, MLA Mawli, Mr. Chandrasingh Kothari, Mayor, Mr. D.S. Mr. Madhusudan Paliwal, Mr. Ansari, Forest Officer, Mr. K. S. Matharu &, large number of entrepreneurs associated with the mining business of Udaipur division were present in seminar.While giving relief to mines entrepreneurs, Minister of Mines announced to implement single window system soon after getting various permissions related to mining. Shri Surendra Pal Singh said that this will solve the huge problems of mine entrepreneurs and they will not be reared from 22 different government departments. UCCI president Hans Raj Chaudhry informed that minister assured that GST on marble will reduce by ten percent soon.
- Prashant Shrivastava