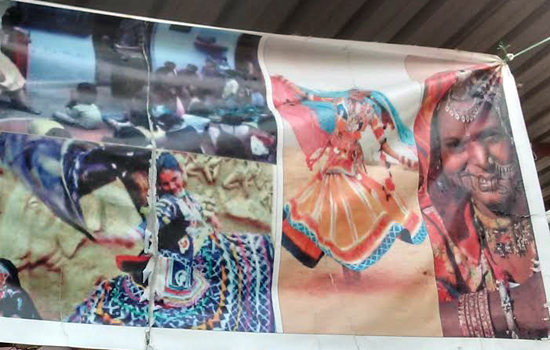 Udaipur: The education is gradually reaching in every society. Whether today's youth of any society, the importance of education is well understood. At the same time, there are also young people who are also worried about the fact that their next generation should get proper education. Few youths of similar thinking are also in Udaipur who have started Remedy Centers for their own children from their Pocket Money. And it remarkable that , 80 children are registered at this remedy center, out of which 45 to 55 numbers are of general category
You have seen the film Aarakshan featuring Amitabh Bachchan and Saif Ali Khan. In that movie, Remedy Center runs in a Gawla stables and children achieve success by reading it there. Some of the same kind of sight will be seen in the Kalbelia settlement of Udaipur.
The remedy center is running under the Teen Shade at the Temple site, the dirty water of the habitat is flowing as soon as it comes out, but neither a child nor a adult can enter the place by wearing shoes where they are studying. There is full care of cleanliness.
There is also a special view that the wall of the worship site , this remedy center and the government primary school wall itself is the same. All the children from the fifth grade are studied in this school. As they go to school in the morning, they come to the Remedy Center like they have joined tuition center . The teachers of this school also help these young people and when a child is not reaching school, they also get help.
Raju Kalbelia and his friends, who imagined this remedy center, tell them that they should complete homework here. Revise them and also solve problems of children there . If any of the questions are difficult, then seek help from the well-known educators.
The initiative of these young people is that when 50 children gather here, other children also come to see them. This Remedy Center is playing a good role in increasing interest in studies. These youth have also formed the "Matth Madri Yuva Kalbeliya Samaj Siksha Trust" Committee Udaipur. Nowadays, those who worry about their younger siblings & are less likely to be present, at the time, these youths who have been concerned about the children of the whole society have set an example. Seeing their passion &giving support they are center of motivation to others
"We got ideas in the minds of friends and we started this center at a small level. Everyone knows the situation of our society. If private schools are far from the reach then do not think of expensive tuitions . In such a situation, the child officers are not able to think what a government job is. Our fund is that the next generation should get as many guidance as possible so that they can move forward to a better career "- Raju kalbalia