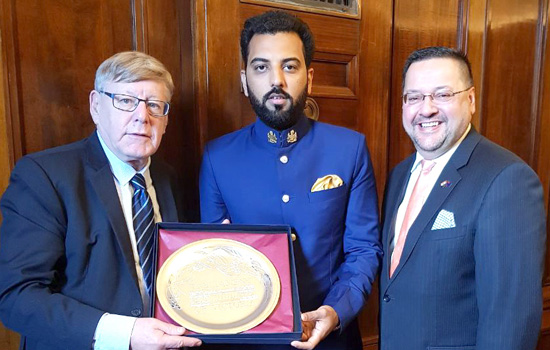 Udaipur: For the prospects of development in the field of education, trade, culture and tourism between India and Australia, Lakshya Raj Singh Mewar of Udaipur met the ministers Australia Government on Thursday at Victoria Parliament. on Thursday.
At this juncture Lakshya raj Singh was honored with a very special memento of the Parliament.
Lakshya Raj Singh Mewar, who arrived in Melbourne on Australias special invitation from the Government of Australia met the other prominent business executives and chief industrialists, including Parliament Speaker Bruce Atkinson, MP Craig ODurchery. During courtsy call , Lakshya Raj Singh Mewad had a detailed discussion on the exchange of different dimensions in the areas of education, trade, tourism, sports and medicine in India, Rajasthan and Udaipur.
Lakshya Raj Singh said that his relationship with Australia are for 11 years. He studied at Sidneys famous Blue Mountains International Hotel Management School for 4 years together with his old friend Nitin Gurshahani, Manojraj Singh mentioned the memorable moments spent in India, Australia.
यह खबर निम्न श्रेणियों पर भी है:
Headlines today News
,
Udaipur News