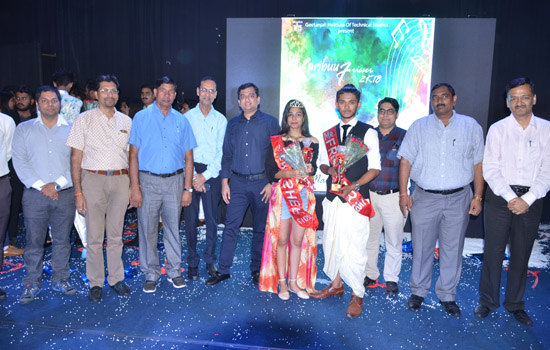 GITS hosted its Freshers Party for the batch of 2018-2022. The extravaganza of "Karibuu Frisser 2K10'" started at 5:30 PM concluded with great pomp. After a month of rigorous orientation, foundation course and mentoring sessions, the students of the new batch received some time off to enjoy the fun aspect of their Life at GITS. Vice Chairman -Mr. Kapil Agarwal was the chief guest for the occasion.
GITS Director Dr. Vikas Misra welcomed all new students and brief about the institute vision and mission. He also brief about the successes of institute in the field of techniques and technology.
The event was hosted by the senior batch of 2017-2021 who were very excited and welcoming for their juniors. The preparations for the event had started approximately two weeks ago when the members of the cultural club of GITS took upon themselves to make the event a grand success and a fun filled evening. There were innumerable participations from the students of the fresh batch who wanted to prove their mettle outside their classrooms with their participation in cultural activities.
The fresher's, not to our surprise, put up a great show competing for the revered crowns of Mr and Miss Fresher. The competition was to be judged on the grounds of the stage presence, smartness, performance and quick wits of the participants. The students displayed their talents in form of Ramp walk, singing, dancing, poetry and dressing. Through a series of impressive performances the students showcased their flair and and a hint of healthy competitive edge.
The event was judged by our esteemed Mr. Kapil Agarwal Vice Chairmen Geetanjali Group, Dr. Vikas Misra Director GITS and Mr. BL Jangir Finance Controller GITS were adjudged Mr and Miss fresher, respectively. Mr Fresher for this batch is Mr. Anirudh Neyar and Ms Fresher is Ms. Lovisha Jain. Hearty congratulations to both of them and a big cheer for the senior batch for organizing a grand welcome for their successors.
By the time the competition concluded, the adrenaline was already on a high pump through the youngsters. All through this time the batches had bonded closely with each other. The latter half of the evening saw some scintillating and groovy dancing from the students as the dance floor was left open for all their entertainment.
The Whole event was coordinated by Mr. Rajeev Mathur (Dean Student affairs) and anchored by Ms. Anjali Dhabai (Assistant Professor).
यह खबर निम्न श्रेणियों पर भी है:
Udaipur News