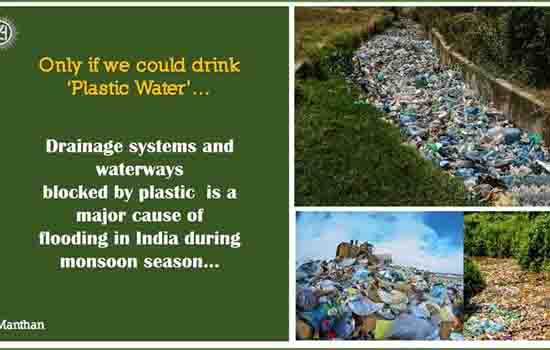 Only if we could drink 'plastic water', we had plenty of it to drink not just in India, but globally.
The whole world is talking about scarcity of water and how the drinking water will not be available in another 200….500.. 1000 years.
Wasting water is one issue, but wastage of water due to plastic clogging in drainage system is another issue. It is simple, water will find its way to move, if not through proper drains, then probably outside the drains, either on the roads or breaking the mountains and infrastructures. This is exactly what is happening in most of the prominent villages and cities in India during monsoon. It is not that drainage systems are not present, it is just that we have clogged them with polythene and plastic bottles.
Can we deny the reasons of human-created floods in Delhi and Mumbai ? Perhaps, before the monsoon hits further, we should also get our townships drainage system re-checked.
Interestingly, Nearly 1/3rd of the plastic packaging used in the world ends up clogging the city streets, drains and waterways. 30% of plastic in Bangladesh, which amounts to about 17,000 tonnes gets trapped in the drains and sewers of the country clogging pipes leading to waterlogging.
In 2015, Kenya faced one of the worst floods in its history after drains were clogged and roads blocked due to plastic. The Jammu Municipal Corporation (JMC) takes lead to clean drains across the city which is proving to be a challenge as plastic and polythene waste has clogged all the sewage lines.
Officials of the Cuttack Municipal Corporation, Odisha accepted that plastic items below 50 microns has led to clogged drainage systems, resulting in more waterlogging. Open drainage and underground drainage canals continue to be clogged due to the indiscriminate dumping of plastic in Tiruchirappalli, Tamil Nadu.
Littering of plastic waste starts from an individual but multiplies with more people adding on to the litter. If the one can stop, others might stop too. May be then we may not have to complain to several municipal corporations regarding water clogging…
"Manthan", an initiative by Hindustan Zinc, is a series of stories to bring awareness about various concerns like air pollution, water pollution, plastic pollution, noise pollution, climate change, road safety and wildlife protection.
यह खबर निम्न श्रेणियों पर भी है:
Udaipur News