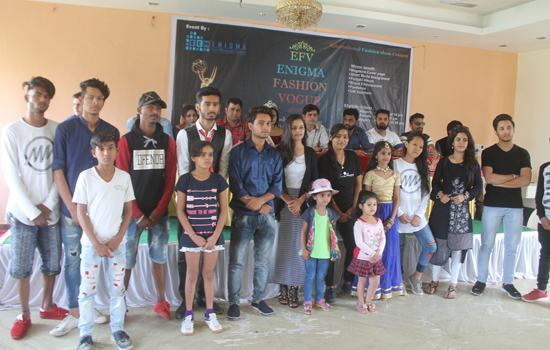 Udaipur: Talent is is a gift given by God, that need a plotfarm to exhibit, for providing such platform Enigma Fashion Vogue Show Audition on 16 is all set to organize this information was shared among media persons by Deepak Chaturvedi
Enigma Event Management Company of Mumbai, which has organized many shows at an international and national level, will organize an audition competition in the Ahsaka Palace on Sunday, September 16, to give a chance to showcase their talent on the stage of fashion.
Among them in the categories of Mr., Miss, Misses and Kids, winners will be selected this event is only for will physically challenged boys and girls.Deepak Chaturvedi of Enigma Event Management told that in the audition round of this fashion show, will be in the four categories at Udaipur, those who want to bring talent& wants to make their future in the screen can participate . In this audition, Dum& deaf children of Vatsalya village Vrindavan will display their talent on the stage of the fashion show. These children will get straight into the finale.
यह खबर निम्न श्रेणियों पर भी है:
Udaipur News