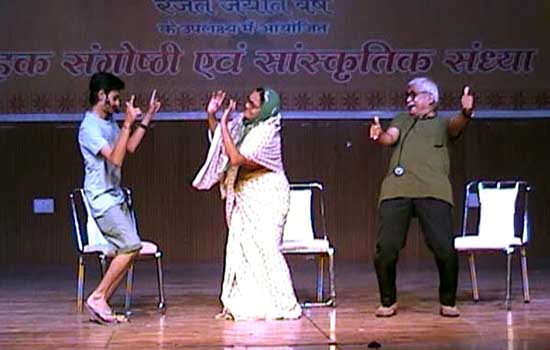 Udaipur: (Vilas janve) Recently I had an opportunity to write a script and direct a short play "SaathBhiAurBaadBhi"for LIC of India to celebrate Silver Jubilee of Udaipur Division. It was staged on 8 September at M.L.S.University'sVivekanand auditorium. Besides short play by 'Martand Foundation', Udaipur Kathak and colorful Folk dance performances were staged by 'NrutyanganKathak Kala Kendra', Ajmer under the able guidance of Guru Ms.SmitaBhargav.
The play was conceived after detailed discussion with the Senior Divisional Manager Mr. Sanjay Bhargav and his team of Senior Officers.
The objective was to entertain the audience and remove the doubts about the roles of LIC agents and to motivate people to understand the significance of insurance in the present scenario. The medium of drama plays a pivotal role in creating awareness towards a new concept as the audience sees things happening on stage. Strong script, natural acting, appropriate light, sound, and music leave an indelible impact on spectators. This thematic play was written keeping in mind various psychological factors prevailing in our society. The play 'SaathBhiAurBaadBhi' described serious subjects with the blending of hilarious acts. We created short scenes and instead of regular fade-outs, used "Rangpatti". The concept of 'Rang Patti' not only helped in vacating the stage after each scene but also generated a pleasant surprise. The elements of suspense enhanced interest. The dialogue delivery of artistes made audience attentive throughout the play and the happy ending provided pleasure to spectators. Acting wise, Manish Sharma as Sutrdhar, SatishAshi as LIC Branch Manager, RekhaSisodia as wise housewife-Sumati, AkankshaDwivedi as Kamla( a maidservant reached to top-level LIC Agent), Abdul Mubin Khan as passionate LIC agent, RizwanMansuri as confused Policy Holder, exhibited their acting talent and received applaud. Sunil Tak as a perfect planner, NehaPurohit as widow daughter- in- Law, NehaShrimali as Mangers's wife, AmitShrimali as a young promoter, Piyush as a greedy grandson -Tony, KiranJanve as Dadi and Rohit as Guest justified their roles. Music by Samarth Janve and Bhuwan Sharma created the appropriate atmosphere for all scenes.
Besides these two professional performances, LIC also added attractive activities for the staff family members and Policyholders. Awards were given to achievers and winners by the Chief Guest Dy. Mayor Mr.LokeshDwivedi who also appreciated the efforts of LIC of India and congratulated the organizers for this grand event.
Such cultural programmes not only motivate the staff abuts involve public at a large. Congratulations to team LIC.
यह खबर निम्न श्रेणियों पर भी है:
Udaipur News