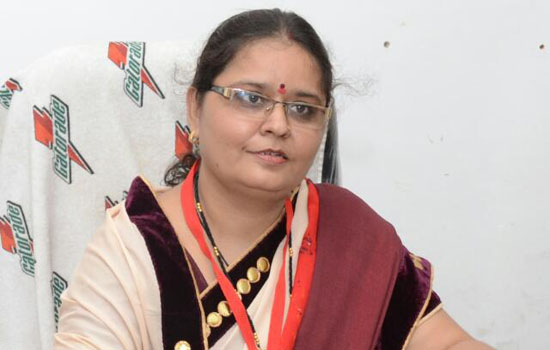 Well known for her accurate astrological forecasts and deep knowledge of Vastu, Dr. Alaknanda Sharma, HOD, Jyotish and Vastu Sansthan, JNR Vidyapeeth, Udaipur is a native of Jodhpur. She had her school education in Jodhpur and Chennai. Her graduation in arts in 1994 is from MLSU, PG in Archeology and Indian Culture in 1998 is from Rajasthan Vidhyapeeth and Ph.D. in the Development of Astrology and Astronomy in 2010 from the same university. She is the first lady in Rajasthan to study this field. She is also a gold medalist in diploma course of Astrology.
As part of her Ph.D., she determined the period of writers of some books like Kautilya'sArthshastra and construction of temples like those at Jagat, NagdaAndDevsome on the basis of astronomy. The conclusions tallied with those arrivaed at by historians. Several books authored by her include those on her field of her Ph.D., Dravid temple style and a workbook on preparing horoscopes. She has also participated in several seminars, conferences, workshops at state and national level and published her papers in reputed research generals.
*A separate Jyotish and VastuSansthanwas started in 2013. It runs a two-year MA course in Jyotriragyan for graduates and a three-year degree course for senior secondary passed students. Those who have passed class 12th can take one-year diploma courses in Jyotish and Vastu. Secondary passed students can offer 6th months certificate courses in Jyotish, Vastu or PoojaPadhiti and Karmakand. As also a three-month Hastarekha certificate course. Enumerating the advantages of these courses, Dr. Alanknanda says that they would enable students to prepare accurate horoscopes which in turn results in taking right decisions about education, business, construction of houses, prevention and cure of diseases and doing Karamkanda with right pronunciation.
Till now 40% of the students have got placement while the remaining ones are working on their own. As there is no age limit for students and classes are held in the afternoon, different kinds of persons like administrative officers, engineers, college students etc. are on roll. The number of women has also increased and they find the courses worthwhile. Young students are also very enthusiastic.
*Free consultation camps are organized in which the services of experts are available and students get practical training. In a research project, the impact on Havan, Rudrapath, AndDurgapath was studied and it was found to be highly positive for the participants as well as for the environment. All these efforts were highly appreciated by UGC and NAC teams.
Dr. Alaknanda's day begins with meditation and Mantra Jap followed by study. Then she spends time with her clients and suggests only simple, inexpensive and appropriate remedies. Her focus is on charity. She likes to prepare showpieces etc. from waste material. Old songs are her favorite. Her role model is her father YugalKishor Sharma from whom she has learned to be meticulous. She is all praise for full support of husband KrishanGopal Sharma, who is simple, highly tolerant and an excellent 'Sadhak'. She feels highly grateful to him and her family for their full support. He runs K.G. Tours and Travels with his son Hardik. She says that she has also the blessing of several reputed experts and has been fully supported by the Vice Chancellor Professor Dr.S.S. Sarangdevot and all her team.She would like to be known as a person who is calm and fully contented,.Young and sincere, Dr. Alaknanda is a highly respected person in the field of Astrology and Vastu.
यह खबर निम्न श्रेणियों पर भी है:
Udaipur News