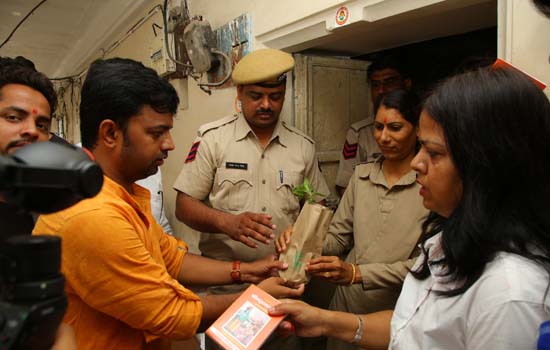 Udaipur: On Sunday, on the occasion of NirjalaEkadashi, 11000 houses in the city have set up a legendary record of the restoration of traditions with the mass distribution of Tulsi plants and ShrimadBhagwatGeeta, under the leadership of daughters. This new initiative of Namovichar manch was given the name of Tulsi My Patan. As an attempt to connect Indians with the original culture, 11,000 families planted basil in the same day from 8 am to 10 pm at the same time. PravinRattalia, president of NamoVicharManch, told that.
In Indian culture, Tulsi's plant is more than a mother. Gita is our spiritual book, which has been built for centuries in our opinion. This unique event took place in the new era for the restoration of the ancient tradition, which did not only record but also communicated an awareness of traditions in the new generation. The team of 2,700 youth under the banner of Namovichar manch distributed copies of Basil and Gita in 11000 houses of Udaipur city. Rattalia said that the aim of this campaign is to raise awareness of plantation and daughter-saving - daughter-to-school education.2700 youths of Namovichar manch were divided into 200 teams and they were given 200 fields. Besides the distribution of Tulsi and Geeta in the house, the significance of NirjalaEkadashi, BhagwatGeeta, and Tulsi Mata Plant was also explained.In the MaiTulsiTereAngaNKee campaign , along with Pravin Rattalia Shailendra Taylor, Jaya Kuchuru, BibhavDhivar, KapilNachani, MayurChordia, YogeshKataria, TanjayGangawat, Lokesh Jain, ArunPathak, Raj Singh, Rohit Joshi, GauravPathak, Chirag Kothari , Abhishek Mehta, Deepak Dakhani, YashParmar, HrithikJavariya played the main roleTulsi plantation was also done in the open yard of all Police Stations and distribution of Geeta was given to the prisoners.
In the presence of MangilalJee Joshi, Chandragupta Singh and Jagdish Sharma, at JagdishMandir distribution mission were inaugurated at 7.30 am in the morning. Tulsi plantation was also done in the families of the Muslim community (photo attachment) Supporting the 'BetiBachaoBetiPrabhoj' scheme, the youth sent a message to the society that in the same way we respect the women of Gita and Tulsi, in the same way respecting every woman will not have such incidents like rape, molestation, domestic violence.A handbill was also distributed to 11000 families, which included the significance of Bhagavad-gita, NirjalaEkadashi, and Tulsi.
यह खबर निम्न श्रेणियों पर भी है:
Udaipur News