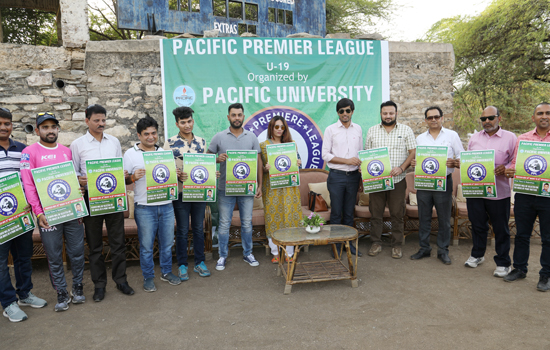 Udaipur: Pacific Premier League (PPL) cricket tournament under 19 will commence from August 20, 2018, under the auspices of the Pacific University. In this type of tournament for the first time in Rajasthan on the lines of the IPL competition, in which 8 teams will participate. This competition will be played on round robin lines. Colorful dress white ball and black side screen will be used. A trial for the selection of players in the teams will be held at ShikarBadi ground from 07 June
The players who participate in the trial will have to register first. The registration form can be filled online or in the Shikariwadi by the Wonder Cement Cricket Academy. The player will be selected only after registration. The selected players will be able to participate in the auction of teams. The player's auction will be done by point (digit). In which teams will be given prescribed points. The teams will be formed from the same 15 players. 15 players will be in each team and 5 will be reserved players. Two matches will be played each day. Man of Match and Turning Point player of the Match in each match will be rewarded. Batsmen, bowlers and fielders, man of the series, Emerging Player and Fair Playing team will also be rewarded with the playing kit and trophy of cricket. During the tournament, the highest scorer batsman and highest wicket-taker will be awarded Purple and Orange Cap respectively.
The winning trophies will be awarded to the winners and runners-up teams and each player will be given a symbol. Each team has a coach & manager who played at national level Any person can buy 1 of these 8 teams. This information was shared among media person by Rahul AgrawalAmanAgrawal and organizers at this juncture poster for this tournament was launched jointly by &Mr.RahulAgarwal (secretary )Pacific University and AmanAgarwal
Talking to media Stuart Binny said that change in the format is need of the hour as no one have time to spare five days for a match however the old patterns are still viable.
For more information, visit the Wonder Cricket Academy or at the Can be addressed at 08829884888/ 09414263389.
यह खबर निम्न श्रेणियों पर भी है:
Headlines today News
,
Udaipur News