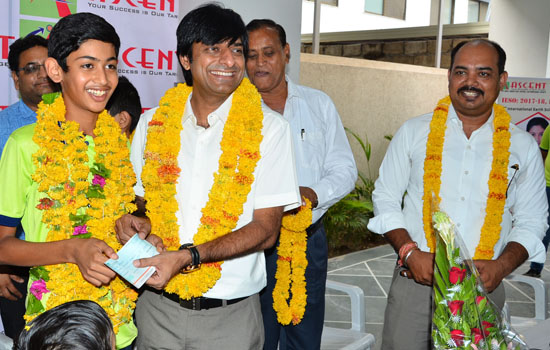 Udaipur: VaibhavKhater, a class 10th student of the pre-nurse division of Ascent Career Point, has been selected among Top 4 students of India for the 12th International Earth Science Olympiad (IESO). This information was shared in In the press conference organized on Friday, byManojBisarati, Chief Director of Assent Career Point &Brigendra Singh Shaktawat, chief of Ascent Pre-Nurture Division. Vaibhav will represent India on 8th August at the international level in Thailand. ManojBisarati, Chief Director of Assent Career Point, on this achievement of Vaibhav, wished his wishes for his bright future.
Brijendra Singh Shaktawat said that Vaibhav will take part in the 10-day pre-departure training camp with the top 4 students of the country for the full preparation of the final level. This camp will be held in Mumbai in July by the Geological Society of India in Mumbai. He said that this examination is organized every year by the Geological Society of India. The student must be 18 years of age to participate in this examination. This competition exam is held at four different levels.
First Level Written Examination National Level Entry and Second Level Training Camp is held in which 2. Students are selected from the entire country. This tanning camp is 25 days which is organized at the University and Research Institute in May-June. The 10-day pre-departure training camp is organized by selecting four best students at the third level. The selected students in the final stage go abroad and represent the country in front of almost 55 countries around the world. The selected student is awarded internationally by Gold, Silver and Bronze Medal.
यह खबर निम्न श्रेणियों पर भी है:
Headlines today News
,
Udaipur News