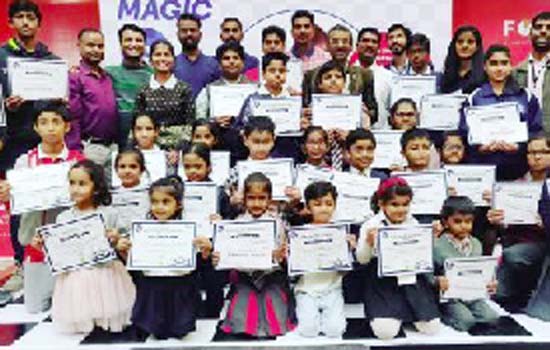 Udaipur: 600 children across age groups and from various schools in Udaipur participated in the city's largest Junior Chess competition, "Chess Wiz".
The enthusiasm in the children was apparent and the atmosphere of pindrop silence albeit in the presence of over a 1,000 people on the floor was something that is not seen usually.
Chess Wiz was organized on 13-14 November to celebrate Children's Day and the birth anniversary of India's first Prime Minister, JawaharLal Nehru, the pioneer of modern India. The event was organized in association with Chess InLakeCity. The competition was coordinated and managed by International FIDE Referee RajendraTeli.
AnkitTalesra of the Forum Celebration Mall, members of the Management Team, along with Dr Om Sahu of Chess in Lakecity gave away the awards in the presence of distinguished guests and audience. VikasSahu, Secretary of Chess in Lakecity announced the winners.
यह खबर निम्न श्रेणियों पर भी है:
Sports News