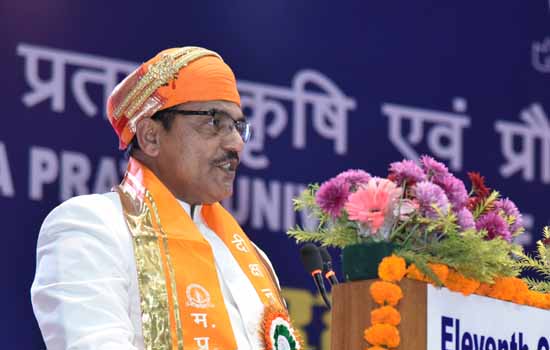 Udaipur: Agricultural universities and scientists should not limit themselves to increasing yields. There is no benefit till the increased yield, unless the beneficial values be delivered to the farmer. Therefore, agriculture should also be linked to the economics of the market. For this, smart mode of agricultural economics should be developed.
This was stated by Governor Shri Kalyan Singh on Friday at the Eleventh Convocation of Maharana Pratap Agriculture and Technology University of Udaipur.
Shri Singh said that while making unison with agricultural universities, the market direction and consumer demand should also be studied. They should make an estimate; the data should be prepared which quantity of the crop will be kept consistent with the demand and supply. Universities should play the role of balancing the balance between farmers, consumers and the market.
He said that more number of girls are receiving Gold Medal show that they are the pioneers in agricultural education today. He shown his satisfication & congratulated Bettis for excellent achievements over boys
Special Guest Home Minister Mr. Gulabchand Kataria gave best wishes to the students who received the gold medal and the title holders. He said that Maharana Pratap has been an important contributor to the development of agriculture. He said that the book written by Pandit Chakrapani Mishra provides "Vishwa Vallabh" in the field of agriculture, it is necessary to do scientific research on this today.792 students qualified for the convocation of December, 2016 to November 30, 2017 were honored with the medals and 38-grade students, with gold medals. Uma Shankar Sharma presented the report of various achievements, activities and future work plans of the University. Pro. Sharma congratulated the students and said that the University has achieved specific achievements in the field of education, research and dissemination.
In the convocation ceremony ,for year 2016-17, 588 students who successfully passed the examination as graduates, 137 postgraduate and 67 students & doctoral degrees awared , 138 in the Agriculture Faculty, 356 in Engineering Faculty, 04 in Home Science Faculty, 48 in Dairy and Food Science Technology, 21 in Biotechnology and 21 Graduation Degrees in Fisheries.
Similarly, 137 students completing Post Graduate course successfully from December, 2016 to November 30, 2017 were given MSc / M.Tech and 67 students degree of Vidyavachapati (Ph.D.). Out of these 50 M.Sc. in the Agriculture Faculty And 40 Ph.D., 68 M.Tech in Engineering and 16 Ph.D., 12 MSc in Home Science And 10 Ph.D., 7 students in Fisheries MF.Sc. And 01 students have a Ph.D. The titles were provided.
On this occasion, Shri Ajay Shankar Pandey, the Officer-in-Charge of Raj Bhavan, Prof. Udaipur (Rural), Mr. Phul singh Meena, Vice Chancellor of Mohanlal Sukhaadia University, Udaipur. J. P. Sharma,. Subhash Bhargava, Controller of Controller Smt. Kumudini Chanwaria, distinguished citizens, officers, former and current directors of the University, former and present teachers, various faculty presidents, media officials , guests and medals and parents of students receiving the degree were also present.
यह खबर निम्न श्रेणियों पर भी है:
Udaipur News