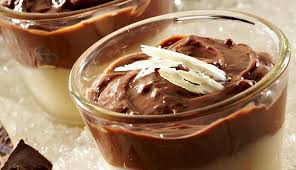 From the romantic land of France comes this succulent, rich and sweet milk-based pudding dessert that can turn your frown upside down! Bon apetit!
Ingredients-
2 tsp-Vanilla Essence
40 gm-Dark Chocolate
8 tbsp-Corn Flour
3 cups-Water
1 tin (400g)-NESTLÉ MILKMAID Condensed Milk
Method -
Mix the NESTLÉ MILKMAID Sweetened Condensed Milk with water and blend well. Divide this mixture into two halves.
To make the Vanilla Layer: Blend 4 tbsp corn flour with little water. Bring one portion of the thinned condensed milk to boil, add the corn flour mixture and cook on a low fire, till thick, stirring all the time.
Remove from fire add the vanilla essence. Divide the mixture into 4 stemmed glasses and allow to set in the fridge.
For Chocolate layer: Bring the other portion of thinned condensed milk to boil, slowly add 4 tbsp of corn flour mixed with little water. Allow to cook till thick, stirring all the time. Remove from fire.Break the chocolate into bits, add to the hot milk and stir until the sauce is smooth and chocolate melted.
Cool the mixture and spoon into the glasses over the Vanilla layer. Smoothen the top and set in the fridge. Garnishing Sprinkle white and chocolate curls over and serve.
यह खबर निम्न श्रेणियों पर भी है:
Receipes