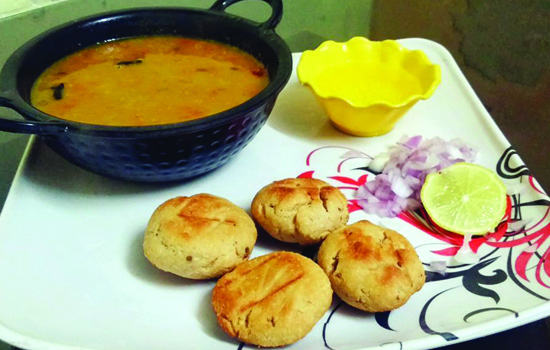 Dal bati in solar cooker
Ingredients of bati:
Wheat flour – 2cups
Samolina – ½ cup
Soda – ½ tsp
Ghee ½ cup
Ajowan caraway – ¼ tsp
Salt – ½ tsp
Water – ¾ cup
Ingredients of dal:
Moong dal – 1 cup
Chana dal – ¼ cup
Salt – ½ tsp
Ghee – 2 tbs
Asafetida – 1 pinch
Cumin seeds – 1tsp
Garlic pieces – small quantity
Green chilli – small quantity
Onion cut – 1 big
Turmeric powder – ½ tsp
Red chilli – 1 tsp
Tomato – two small
Coriandor – good quantity
Procedur:-
Today I made dal bati in solar cooker. In one pot I kept moong dal n chana dal with some salt n water mixed. It was cooked after 3 to 4 hrs.Then I brought it into my kitchen n gave tadka to dal using onion garlic green chilli.cumin seeds,red chilli,heeng n turmeric powder in ghee tomato n corriander prepared. bati using wheat flour,samolina salt,soda ajwain,ghee n luke warm water.I applied little ghee on the surface of another pot and put 6 batis n covered the lid. After 5 hrs it was also cooked. I took batis n dipped them into ghee for 3 mts. Dal bati was ready n we had a delicious lunch. I used least of gas n most of solar. So good buy.
यह खबर निम्न श्रेणियों पर भी है:
Receipes