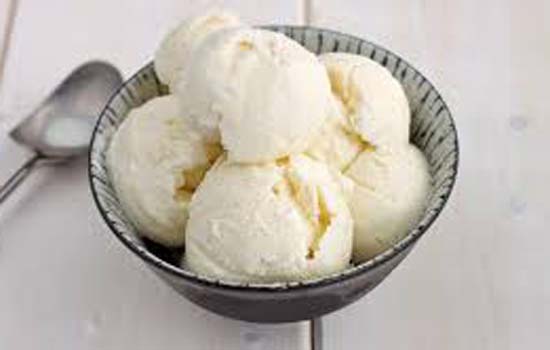 Ingredients - 1 liter Milk, 1 cup Sugar, 3 tbsp Cornflour, 2 tbsp GMS powder, 1/4 tsp CMC Powder, vanilla essence 1/2 tsp,
1 cup fresh cream, 1/2 cup powdered sugar, GMS (Glycerol monostearate) and CMC (Carboxy methyl cellulose) are compounds used for stabilizing ice creams and are available in specialty food stores or bakeries.
Directions -
In a thick bottomed vessel pour milk, add cornflour, GMS and CMC powder and sugar. Mix well. Heat stirring continuously on high flame. When the milk boils, lower the flame and continue simmering for five minutes. Remove from the fire and cool. Add vanilla essence. Pour in the ice cream mould and keep in the freezer to set. When it is set, remove from the freezer. Break the mixture and put half of it the mixer jar. Add half the quantity of fresh cream and powder sugar and churn.Repeat with the remaining half mixture. Mix the whole mixture and finally put in the freezer to set.
यह खबर निम्न श्रेणियों पर भी है:
Receipes