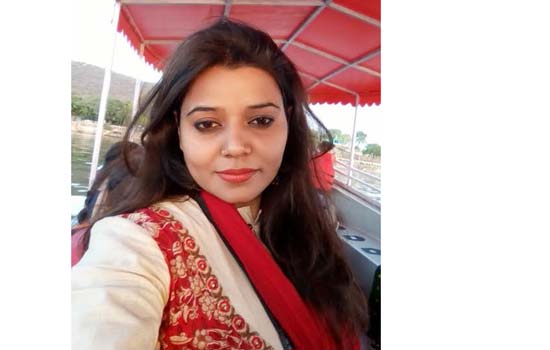 Jaipur: The inauguration and prize distribution ceremony of the 58th Annual Art Exhibition organized by Rajasthan Lalit Kala Academy, Jaipur was concluded by the chief guest, Shri Nihalchand Goyal, and the President of Rajasthan Lalit Kala Academy, Jaipur) in academy compound J-15 Jhalana Institutional Area at on 29 March, 2017.
Total 119 artworks of 75 artists were selected for the exhibition by the selection committee and high quality artworks of the following ten artists were found to be eligible for awards:
Paintings -- 1. Amit Rajbanshi 2. Gopal Acharya 3. Ravi Kumar Yogi 4. Sanjiv Sharma 5.Shwet Goyal 6. Yugal Kumar Sharma.Graphics/ Drawing- 1. Miss Dimple Chandat 2. Krishna Kumar YadavSculpture- 1. Sunil Chejara 2. Shiv Kumar SharmaArtists , Miss Dimple Chandat for her artwork "ESCALATION" and Shri Yugal Kishore Sharma for his artwork "YOGA II", both from Udaipur City, have been awarded in this award ceremony cash award of Rs. 25000/- each.
Miss Dimple Chandat is a Phed scholar and working as an art teacher in St. Mary's School Titardi, Udaipur. Her awarded artwork "ESCALATION" is a wood cut print wherein she has endeavoured to show the harmonious relationship between life and modern technology. On the one hand Bamboo is a symbol of life and continuous progress, on the other hand parts of machines are symbols of innovative discovery of modern technology. It is learnt that all technological developments from Mobile to Satellite depend on the needs of life and if not used adversely, they can make life happy and progressive.
Miss Dimple Chandat is a graphic print maker and also has keen interest in painting. So far she has been working through these mediums and fields. She has participated in various art workshops, exhibitions and competitions at National, State, local levels and received awards in these activities.
Shri Yugal Kishore is an art lecturer in S.S.B. Government College Nathdwara. The medium of his artwork " YOGA II is water colour and gold. In this artwork, he has endeavored to show the importance and dignity of Yoga which, if adopted in one's life will make body and life like gold, pure and serene.
He has also taken participation in various national and international solo/group exhibitions and Art Camps received several awards including "Rajya Kala Puraskar" by Rajasthan Lalit Kala Academy and " Maharana Rajsingh Puraskar" by Mewar Foundation.
यह खबर निम्न श्रेणियों पर भी है:
Rajasthan news