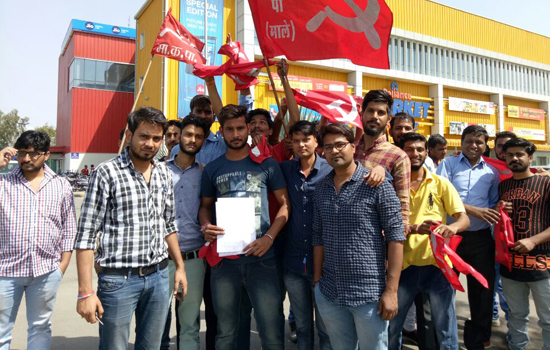 Jaipur: Hundreds of Jio employees who have been terminated illegally in last one year from Jaipur and nearby places staged a protest in Jaipur on Sunday at the Jio office .
On Friday also hundreds of employees had protested for two hours. Maximum employees have been terminated after the successful launch of reliance jio.
Rahul Chaudhary, who had worked as manager in Reliance Jio charged that nearly 2500 employees had been terminated in last one year. The employees worked twelve to fourteen hours daily for the successful launch of the scheme. But when the scheme was successfully launched they were terminated even without any notice. Most of the employees are graduated and have qualifications in IT which is required for the eligibility for the posts they were working.
The employees collected for protest on Sunday at 6.00 am at the office of Reliance Jio in Jaipur in big numbers.
The management changed the time of the shifts to be changed from 6.00 am to 9.00am. But his did not deter the employees and nearly 200 employees participated in the protest. The management of the local unit did not even accept the memorandum saying that they were not the employees of Jio but were the employees of a contractor company NSb BPO Ltd. The employees were shocked to hear this. The management of Jio and the contractor company could not present the registration under Contract labour ( Abolition and Regulation Act ) 1970.
The employees decided to launch a massive protest form a union and approach labour court.
A committee of 35 employees was also formed in the leadership of Rahul Chaudhary, Dushyant Khunteta,Khem Singh, Kailash Chand,Nand Kishore Yadav, Akshay Panwar and Ramesh.
Saurabh Naruka of AICCTU said that all employees who had been terminated in the past are will be mobilized to fight against this anti workers move.
यह खबर निम्न श्रेणियों पर भी है:
Headlines today News
,
Rajasthan news