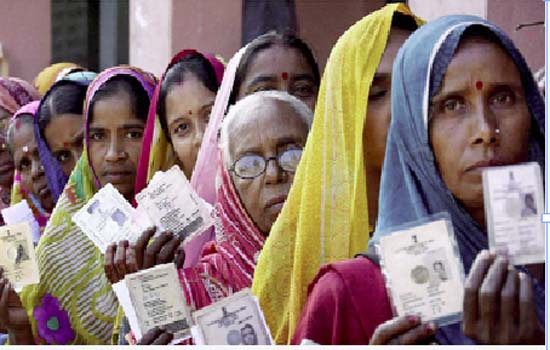 Jaipur: Even as the BJP and Congress are slogging to find winning candidates ahead of a high stakes assembly election, both parties face turncoats who switched loyalties at the drop of a hat after being denied tickets.
Neither the BJP nor Congress is willing to take any chances. in Rajasthan state elections to be held on December 7 and counting of votes will take place on December 11.
Among the prominent BJP leaders who left the party sensing an opportunity in the rival party are former MLA Manvendra Singh, BJP MP from Dausa Harish Chandra Meena and Nagaur MLA HabiburRehman.
Singh joined the Congress in October and he has been fielded against chief minister VasundharaRaje from Jhalrapatan.Meena, a former DGP whose brother was an MP from Congress, has been given the ticket from Deoli-uniara, while Rehman, who had joined the BJP after quitting the Congress in2008, will contest from Nagaur. BJP MLA and parliamentary secretary Om PrakashHudla let the party in a huff after being denied a ticket. Hudla's ticket got cut on to KiroriLalMeena's insistence. While chief minister VasundharaRaje was batting for Hudla, Meena wanted to give the ticket to his candidate.
On the Congress side, the party leader Ashok Sharma from Dholpur had joined the BJP creating a buzz in Dholpur politics where the BJP is seen to be on a weak wicket. Ashok, son of Congress stalwart Banwarilal Sharma, was the Dholpur Congress district president. While Sharma was keen to contest from Dholpur, the party has fielded him from Rajakheda, where he may prove a strong contender.
AbhineshMehrishi joined the BJP just a couple of days ahead of the declaration of the first list. Mehrishi had contested the 2008 assembly elections on a Congress ticket from Ratangarh and lost. He later fought the 2014 LokSabha polls on a BSP ticket and again lost. He has been fielded from Ratangarh, where cabinet minister RajkumarRinwa's ticket was cut. Rinwa resigned and said he would contest as an independent.Similarly, Congress leader Ram Kishore Saini who joined the BJP on Friday was declared the party candidate from Bandikui in the third list released on Saturday. Saini had contested from the BJP in 1990, 1993 and 1998. He had joined the Congress in 2013, but decided to return to BJP this time.Mahesh Pratap Singh of the erstwhile royal family of Kotharia near Nathdwara in Rajsamand district also joined the BJP. Singh, who returned to the BJP after 13 years, has been fielded from Nathdwara.Independent MLA Rajkumar Sharma returned to his parent party Congress this time. Sharma had quit the Congress in 2013 and contested as an independent from Nawalgarh. However, his return was almost a foregone conclusion.Former Congress MP and ex-kota royal Ijyaraj Singh too turned to the BJP after he was denied a ticket. The BJP fielded his wife Kalpana from the Ladpura seat axing sitting MLA Bhawani Singh Rajawat, who rose up in rebellion.Mamata Sharma, former Congress MLA and former NCW chairperson in the UPA government, too joined the BJP on Sunday after being denied a ticket from her constituency Bundi. Sharma, who has been a staunch Congress loyalist, has now changed sides to get a ticket.
यह खबर निम्न श्रेणियों पर भी है:
National News