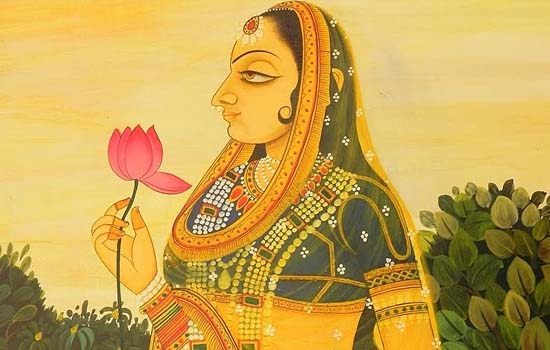 The colorful state Rajasthan has a rich inheritance in its paintings. Beautiful and bold, these paintings depict the rich historical past of the state of Rajasthan. The style and varieties of these paintings are as diverse as the state itself. from the point of view of historical traditions in Rajasthani Painting, the 'Mewar School' occupies first place.
The ruins of Mewari Painting were found from Ahar on which have been depicted the pictures on earthern pots. Many painters from Gujarat come here and "New Mewar Painting Style" took birth due to their influence on Malwa Paintings. Ajanta painting art also influenced the initial art of painting. Some artists and Guhil rulers of Vallabhipur come to Mewar and applied the Ajanta traditions with tremendous success. This traditions, after having assimilated a local feature, maintained its original identity and was known as the "Mewar School of Painting".
"Sumraichchkha" and "SoopassnahChrioum" are recknoed among the many pictorial epics painted in the Mewar Style during 8th Century.The Main theme of such paintings was the traditional text that ranges from the Ragamala, Nayika-bhada, Krishna-Leela, the Ramayana and the Bhagvatapurana. One of the first definitive sets of "Ragamalapaintgs" of 1605, and executed by painter Nasiruddin, can be still seen in the collections at Udaipur.
The tradition of painting soar high between 1628 and 1652 during the reign of MaharanaJugat Singh. In the era of Jaisingh (1680-98), miniature paintings were in tradition. 46 miniature paintings of "Raseekpriya", made during the reign of RanaAmarsingh (Second), have been on display in State Museum, Udaipur, Miniature Paintings of "KrishanaVeelas" has also been preserved here. During the era of RajsinghIInd, the paintings were made in "Ambamata temple" which is situated in the west of Udaipur. The paintings, depicts the Lord Shankar doing Tandav and Lord Gomesha in the court of Bhavani, have been the prominent ones, made in "Gotaee". In the year 1827, three floors of Bapna Haveli were painted with different pictures. The wide range of miniature paintings can be seen in "Bharahut Ki Haveli" in Bhtiyaani Chauhutta, "Shri NathoolalJi Ki Haveli", "Dhababaiji Ki Haveli", "Peepliya Ki Haveli" and in "Karjali Haveli".Paintings from Mewar assume a great variety for the use of a wide range of colors such as saffron, yellow, ochre, navy blue, brown, crimson etc. The backgrounds usually have stylized architecture consisting of domed panillions and small turrets. The treatment of trees only partially naturalistic and the foregrounds and decorated with flowers and birds. A scarf is worn over one shoulder and sometimes around the waist as well. The turban is either loosely wound or has a bond tied tightly around it.
Mewar painting continued to flourish, with Western style portraiture of notable figures, supplementing the traditional style of hunts and courtly occasions.
यह खबर निम्न श्रेणियों पर भी है:
National News