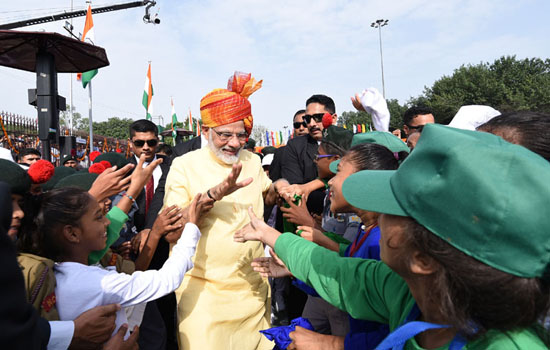 New Delhi: Prime Minister Narendra Modi on Tuesday said bullets or abuses will not resolve the Kashmir issue and that it can be addressed by embracing every Kashmiri.
Addressing the nation on the 71st Independence Day from the ramparts of the historic Red Fort, he asserted that his government is committed to restoring the lost glory of Kashmir and its status as 'heaven on earth'.
"Na gaali se samasya sulajhne wali hai, na goli se, samasya suljhegi har Kashmiri ko gale lagane se (Kashmir problem cannot be resolved by either bullets or by abuses. It can be resolved by embracing all Kashmiris)," Modi said in his fourth Independence Day speech.
He said only a "handful of separatists" were resorting to different tactics to create problems in the state and asserted that there will be no soft approach towards terrorism.
The government is committed to make Kashmir a paradise once again, the prime minister asserted.
Not only the J&K government but the entire country is with the people of the state in helping them realise their dreams of development, Modi said.
During his hour-long address, the prime minister also declared that that violence in the name of faith was not acceptable and termed casteism and communalism as poison.
Referring to recent incidents of natural calamities in various parts of the country as also death of children at a state-run hospital in Uttar Pradesh, he said sympathies of the entire nation are with the affected families.
"Many parts of the country faced natural calamities in the recent past. Children died at a hospital. The entire nation is with them," Modi said.
Noting that natural calamities become a big challenge, he said while good rains contribute to prosperity of the country, climate change creates problems.
Talking about national security, he said it is a priority and the country is capable of defending itself in all spheres.
India is capable of tackling any challenge in any frontier -- land, sea or the cyber space, the prime minister said against the backdrop of border standoff with China in Doklam.
Earlier, Modi was received by Defence Minister Arun Jaitley, Minister of State for Defence Subhash Bhamre and Defence Secretary Sanjay Mitra as he arrived at Red Fort.
He received a Guard of Honour from a contingent of the Army, Navy, Air Force and Delhi Police.
The Prime Minister then unfurled the national flag amid a 21-gun salute.
PM Modi also greeted the nation on India's Independence Day as well as Janmashtami.
"Independence Day greetings to my fellow Indians. Jai Hind," Modi tweeted. "Greetings on Janmashtami," he added.
Highlights
- PM stresses on digital payments to move towards less cash economy; says there was 34 pc increases in digital payments in last one year.
- Removal of check posts after implementation of GST has cut time for transporting goods by 30 pc.
- After note ban, 3 lakh shell companies were detected; 1.75 lakh shell companies have been shut.
- Demonetisation has helped bring blackmoney into formal economy.
- Rs 3 lakh crore has come to banking system after note ban; more than Rs 1.75 lakh cr under scrutiny; Rs 2 lakh cr blackmoney has reached banks.
- Rs 1.25 lakh crore of blackmoney has been detected.
- Violence in the name of faith is not acceptable: says PM, terms casteism and communalism as poison.
- An atmosphere has been created against 'triple talaq'.
- India achieved record crop production despite natural calamities; production of pulses saw a record, govt bought 16 lakh ton.
- National security is our priority; we are capable of defending our country in all spheres.
- Rs 800 cr benami property seized by the government.
- We might have grown up in despair but now we have to move ahead with confidence; there is no room for 'chalta hai' attitude.
- We have to take the country ahead with the determination of creating a 'New India'.