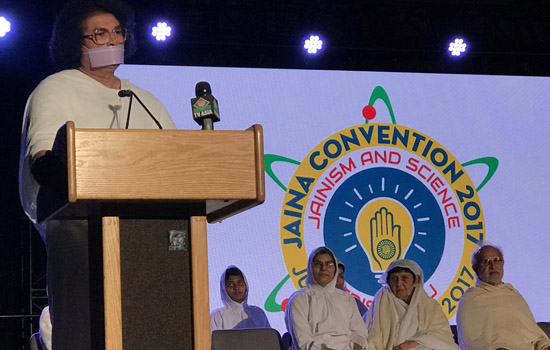 Jain Acharya Dr. Lokesh Muni addressed one of the biggest conventions of United States of America - JAINA Convention 2017 at New Jersey. The Convention was organised by Jain federation of North America for Uplifting Humanity, Brotherhood and spreading the scriptures of Jainism by connecting it with science.
Founder of Ahimsa Vishwa Bharti Acharya Dr. Lokesh Muni delivering speech on "Jainism and Science" said that Jain religion is a scientific religion based on principles and philosophy of Bhagwan Mahavir. Bhagwan Mahavir was a scientist and psychologist along with spiritual leader. Scientist perform experiments in laboratory he made his own body a laboratory. He reached the truth through knowledge, meditation and renunciation he 2600 years back declared facts like the words we speak circulates in the environment, vegetation also have life like us, diet and spirituality are deeply related. He elaborated on the ways in which Jainism had an understanding of today's environmental challenges, and of science, centuries ago. He said that Jainism can solve many contemporary problems.
Acharya Lokesh speaking about Quality of Life said that birth is a natural phenomenon, but how we live depends on our discretion and efforts. A person lives aimless life fulfils his needs and dies, another person live a purposeful life with positive thinking leave behind something for the society he is remembered for centuries for his works. Jain lifestyle gives us the key to healthy, happy and delightful life.
JAINA Convention has been organised in New Jersey Convention & Expo Center, Edison, NJ, USA from June 30 to Tuesday, July 4, 2017. A stimulating program is being developed to meet the interests of all segments and age groups of the expected 5000 attendees and to ensure an enriching and memorable convention experience for all.
The convention theme is: "Jainism and Science". Many spiritual dignitaries, scientists, and professionals from all corners of the world are showcasing how Jain principles, values and heritage have numerous links to science.
It is noteworthy that JAINA convention has his own 70 centres and almost 1,50,000 people are associated with JAINA. Majority of them gets unite once in every two year to spread and learn the scriptures of Jainism with the Worlds Keynote speakers in the guest list.
JAINA President Mr. Ashok Dalmia, Convener Mr. Gunvant Shah, Atul Sha. Devang Shah, Dilip Puntar and many others gave their full contribution in successful organisation of The Convention.
यह खबर निम्न श्रेणियों पर भी है:
National News