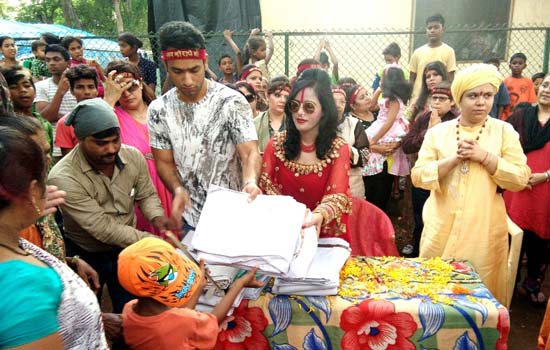 Mumbai:Shri Radhe Maa distributed free tarpaulin sheets(Taalpatri) and food grains to the poor and downtrodden tribal people residing in the huts and makeshift house at Navpada, National Park, Borivali (East),Mumbai on this Sunday.
Shri Radhe Maa herself was present to distribute these things to the poor whose huts were in shambles due to the incessant downpour of rains during evening and night time. The people were delighted to see her humble presence who had personally come down to shoulder their problems and wipe their tears. Especially the children were thrilled and walked with her. They wanted Shri Radhe Maa to stay with them for longer time.
Speaking on the occasion Shri Radhe Maa said, "All these people are my brothers, sisters, companions and that is why I have come. Every living being whether it is human or animal has divine connections with the Almighty. Helping people in times of need is just like serving God. My diving powers and the love for these people have drawn me to them. It is true that without God's will and gesture nor a leaf can be shaken. I am happy, enlightened and grateful that the Almighty has given me this opportunity to serve these people."
The occasion was a success due to the kind and laudable efforts of Mangli Bai Barap, committee member of Shramjivi Organisation of that village. Mangli Bai said, "I and my organization try to work for the people.
On earlier occasion too Shri Radhe Maa had come and distributed blankets. The government is not bothered about our welfare. But Radhe Maa always enquires about us through our moments of thick and thin. We all people wish and pray that she visits us time and again and that her blessings are bestowed on us."
यह खबर निम्न श्रेणियों पर भी है:
National News