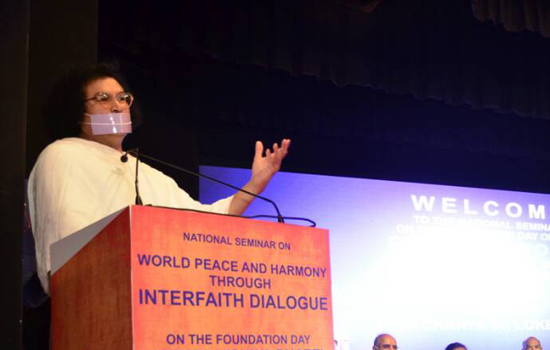 NewDelhi:Peace Ambassador Acharya Lokesh will be honoured with 'Bharat Gaurav' Award at United Nations Headquarters in New York. Founder of Ahimsa Vishwa Eminent Jain Acharya Dr. Lokesh Muni have been giving the message of Peace, Harmony and Non-violence from the prestigious platforms in India and different parts of world to establish World Peace from last 32 years.
Regognising his outstanding efforts he will honored in an elaborate ceremony organised at UN Headquarters by Sankriti Yuva Sanstha in which many countries will participate.
Acharya Lokesh will leave for Peace Harmony Tour to United States of America from Delhi on 6th June. On arriving in New York Acharya Lokesh will be first honored at UN Headquarters 9th June morning. He will Participate in JAINA Convention 2017 organised on the theme 'Jainism and Science' at New Jersey from June 30 to July 4. Jain representatives from different parts of the world will express their views in JAINA Convention on this very relevant subject.
Acharya Lokesh talking about the theme of JAINA Convention 2017 said that 'Jainism and Science' is a very meaningful subject. In reality Bhagwan Mahavir was not only a spiritual Guru but also scientist and psychologist. Bhagwan Mahavir's Jain philosophy is a very scientific philosophy. It is expected that in JAINA Convection 2017 a working plan should be formed so that a team of scientists go ahead with research on Jain Agams. In Jain Agams great knowledge is written in Prakrit language which should be brought forward to the world.
Acharya Lokesh will participate in International Yoga Day function organised at United Nations Headquarters on 21st June.
He will participate in Inter Conference organised in Atlantic city on 24th June and will address Annual function of Chicago Jain Centre on 25th June.
Acharya Lokesh during the tour will address programs at Washington, New York, New Jersey, Atlanta between 10th and 20th June.
यह खबर निम्न श्रेणियों पर भी है:
National News