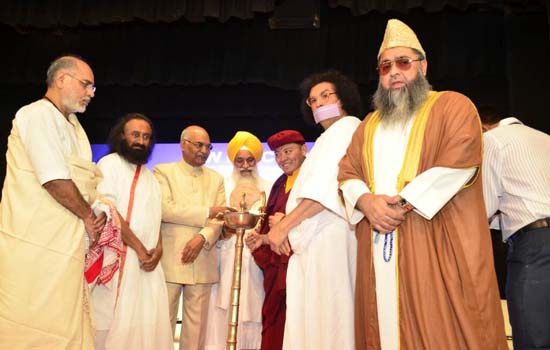 Mumbai: 'World Peace and Harmony through Interfaith Dialogue' seminar organised by Ahimsa Vishwa Bharti organization founded by eminent Jain Acharya Dr. Lokesh Muni on its 12th Foundation Day many spiritual leaders of international fame made a historical beginning towards interfaith dialogue in the Matushri Sabhagar of Mumbai.
For the first time in business capital of India in the divine presence of Sri Sri Ravi Shankar - Founder Art of Living, Jain Acharya Dr. Lokesh Muni - Founder President of Ahimsa Vishwa Bharti, Shri Ramesh Bhai Oza- eminent preacher, H.H. Giani Gurbachan Singh - Chief Jatthedar of Akal Thakt, Archbishop, Imam Umer Ahmed Iliyasi - President of All India Imam Organisation, Eminent Spiritual Leader H.H. Dada J.P. Vaswani, World Renowned Bodh Bhikshu Gyalwang Drukpa Rinpoche and Dr. Binny Sareen from Bhrahmkumaris Governor of Bihar Shri Ram Nath Kovind, Cabinet Minister Shri Ramdas Athawale and Smt. Amruta Fadnavis wife of Shri Devendra Fadnavis Chief Minister of Maharashtra inaugurated the seminar.
Sri Sri Ravi Shankar on the occasion said that world population is presently faced with adverse conditions from Syria, Afganistan to Russia and America there is an atmosphere of terror and violence. In such condition world's largest organisations like United Nations and Parliament of World's Religions is giving importance to Interfaith Dialogue.
Acharya Dr. Lokesh Muni said that violence and terrorism cannot solve any problem. Violence gives rise to counter violence. Ideological pollution is more harmful than environmental pollution.
All problems ca be solved through dialogue. He said peace is necessary for development of nation and society, interfaith dialogue can establish world peace. When people of different religions, faiths and castes will work together for development people of the whole world will surely get the benefits.
Shri Ram Nath Kovind appreciating the historical beginning by Ahimsa Vishwa Bharti said that the subject of the seminar is very contemporary and relevant; it is in the benefit of our nations and society. Gurus of different faiths gave the message that all religions preach peace and harmony it will send special message to the masses.
Shri Ramdas Athawale said that in social life peace, brotherhood, love, non-violence leads to development of all sections of the society. Inter Religion harmony is the key to development. When Saints of different religion will give the message of Peace and Brotherhood a harmonius atmosphere will be created in society.
Shri Ramesh Bhai Oza said that the relevance and purposefulness of religion lies in creating peaceful, organised, independent, parity, developed and progressive conditions in the society.
The society in which there is coordination between religion and philosophy we find congruence between thoughts and action peace and mutual brotherhood.
Giani Gurbachan Singh on the occasion said that Acharya Lokesh Muni ji spreading Indian Culture in the world. Last year he had addressed the prestigious platforms like International Yoga Day celebration at UN Headquarters, Parliament of World's Religions at Salt Lake City.
I am pleased to address him as Ambassador of Peace and International Saint. He said Acharya Lokesh Muni Ji associated religion with social welfare to remove social evils from the society. In his leadership Ahimsa Vishwa Bharti organisation is effectively running campaign against female foeticide, alcoholism and drug addiction which is appreciable.
Imam Umer Ahmed Iliyasi said difference in opinion is natural in society; problem arises when difference of opinion becomes difference in hearts. He said that we all religious leaders are constantly making efforts to give the message of peace and harmony in the society.
Whenever the need arouse we went to communally disturbed areas to establish peace there.
Smt. Amruta Fadnavis wife of Shri Devendra Fadnavis said that in a nation like India with diverged cultures it is necessary that along with understanding our culture and religion we also give respect to other religions and cultures. India has always been very open, human and diversified on religious grounds.
Archbishop, Dada J.P. Vaswani, Bodh Bhikshu Gyalwang Drukpa Rinpoche and Dr. Binny Sareen also addressed the gathering. Abhay Kumar Jain, Sauabh Bora, Ganpat Kotahri, Prashant Javeri, Rajeev Chopra, Kisore Khabia, Motilal Chhajed, Swarn Singh Bajaj, Kevin shah, Ashok Nakerani Kunal Shah, Sajan Shah, Praveen Kotak, Ruchira surana, Sangeeta Jain, Kokila Javeri, Satish Surana worked hard for the successful organisation of the conference.