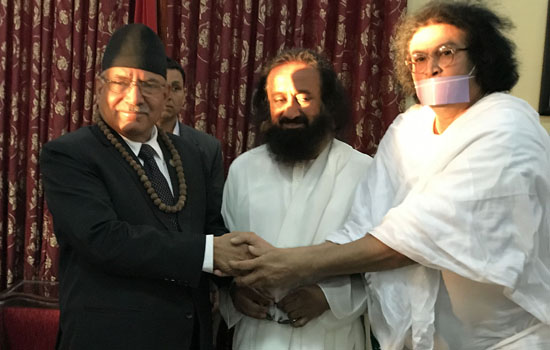 Spiritual leaders' founder of Art of Living Sri Sri Ravi Shanker, founder of Ahimsa Vishwa Bharti Jain Acharya Dr. Lokesh Muni, President of All India Imam Organisation Imam Umer Ahmed Iliyasi and President of Mahabaudhi International Buddha Bhikshu Sanghsena in a meeting with Prime Minister Nepal Shri Pushp Dahal Kamal invocated Indo Nepal friendship and discussed the issue in detail.
Welcoming leaders of different religion Prime Minister Shri Pushp Dahal Kamal said that this historical meeting will encourage Indo Nepal friendship. This will strengthen the cultural, spiritual, religious and economic unity of India and Nepal.
Eminent Jain Acharya Dr. Lokesh Muni said that peace is necessary for development. It is also important that all the sections of the society should develop together. Poverty and deprivation is one of the major factors which lead to violence and terrorism. India and Nepal should together fight with poverty and deprivation.
Eminent Spiritual leader Sri Sri Ravi Shankar said that Cultural and Spiritual heritage of India and Nepal are closely related. Together India and Nepal can regenerate this heritage and spread it in the world. India and Nepal have many similarities from the point of view of history, art, religion etc. Together we can give important contribution towards establishing world peace and harmony.
International Buddha Bhikshu Sanghsena said that Bhagwan Buddha was born in Nepal and he gave the message of humanity in India and took it to the world. Imam Umer Ahmed Iliyasi said that religion and culture has important contribution in economic development. Religious unity can lead to economic development.
यह खबर निम्न श्रेणियों पर भी है:
Headlines today News
,
National News