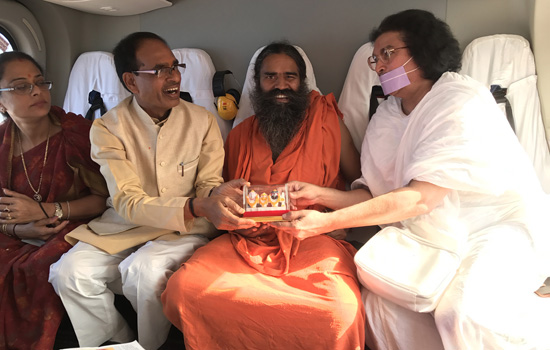 Chief Minister of Madhya Pradesh Shri Shivraj Singh Chouhan expressing gratitude towards Eminent Yogguru Baba Ramdev and Founder of Ahimsa Vishwa Bharti Acharya Dr. Lokesh Muni for participating in 'Namami Devi Narmade' Save Narmada Yatra at ALirajpur said that Acharya Lokesh Muni who gives message of Peace and Harmony to the world has graces Narmada Yatra is a matter of great pride for us. He appreciated the large number of people who have been participating in Narmada Yatra. Chief Minister talking about the sacred objectives of Narmada Yatra appealed to people for protecting environment and saving Narmada. He said that Yatra which began on 11 December 2016 will cover 2930 kilometres of Narmada Banks and will take around 118 days to complete. He said that lakhs of trees will be planted on banks of river Narmada. He said that to protect rivers Government, Saints, Religious leaders and social workers have to work together. Appealing to people for alcohol free society said that on this issue government can make law and make arrangements for punishment who break the law but social and religious organisations have to create awareness among people about the existing laws and encourage them to follow the law.
Acharya Dr. Lokesh Muni on the occasion said that earth can fulfil the needs of people but cannot fulfil the extreme desires of the people. Luxurious lifestyle is harming the environment and natural resources. Bhagwan Mahaveer preached controlled lifestyle for environment protection. Acharya Lokesh said that 24th Tirthankar of Jain religion Bhagwan Mahavir gave the principal of 'Shat Jeevnikay' which means that earth, water, fire, wind, plants all are living. These should not be unnecessarily broken or punctured. They should not be used more than requirement. He said that rivers are symbol of faith and development they also give life. He greeted Madhya Pradesh Government for organising Narmada Yatra and lakhs of people who are participating in it.
Yogguru Baba Ramdev said that human life is born from water. We have to protect vegetation and grow more trees and vegetation to protect the rivers. Measures should be taken so that adequate flow of natural fresh water flows throughout the stretch of the rivers throughout the year. This is necessary to protect and preserve their ecology and meet the basic water needs of the habitations on their banks. He said that Narmada has historic, religious, spiritual and social importance. Social awareness should be created to protect Narmada.
Shri Shivraj Singh Chouhan, Yogguru Baba Ramdev and Acharya Lokesh Muni together walked on the bank of river Narmada with symbol of environment protection flag in their hands for many kilometres.
यह खबर निम्न श्रेणियों पर भी है:
Headlines today News
,
National News