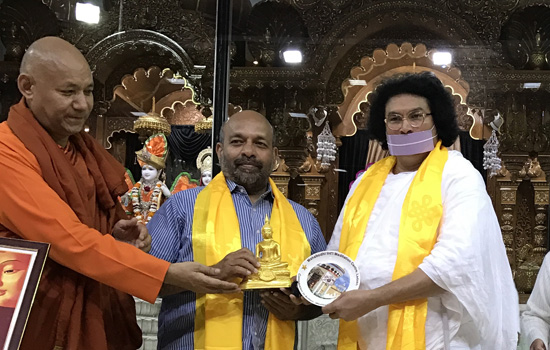 Founder of Ahimsa Vishwa Bharti and eminent Jain Acharya Dr. Lokesh Muni has been honored with Mahakaruna Award 2017 for his remarkable contribution in the field of Human Welfare and World Peace and Harmony. Acharya Lokesh accepting the award at Mahakaruna Diwas program organised at S.G.V.P. Swaminarayan Gurukul said that all religions of the world give great importance to Mahakaruna, compassion, sympathy, kindness. Compassion is best and unique human quality.
Acharya Lokesh said that 24th Tirthankar of Jain religion Bhagwan Mahavir giving utmost importance to compassion and service to humanity said that "One who serves the sick, poor, child and old serves me." Bhagwan Mahavir in Dasvaikalik Agam said "vlafoHkkxh u gq rL; eksD[kks" means the one who is not conscious about the people's suffering is not entitled for Moksha. Doors of Moksha are closed for the person who eats to his content and let his brother sleep hungry.
Acharya Lokesh further said that both in Jain and Bodh religion great importance is given to human qualities like non-violence, compassion, love, forgiveness which is the need of present world.
President of Mahabodhi International Bodh Bhikshu Sangh Sena on the occasion said that Mahayan branch of Buddhism has also accepted the two prime elements- Compassion (egkd:.kk) and Eternity (egk'kwU;). A mother on seeing her child falling from stairs runs to save the child without caring for her own life. Similarly when a person feels the same compassion for the person in pain or trouble the compassion takes the highest form. Eternity is the highest stage of the principle of nihilism in Buddhism. It has been accepted that by reaching the highest form of compassion eternity can be achieved.
On the occasion Gujarat MLA Shri Vallabhbhai Kaakaria, President of Global Imam Sangathan Imam Tarapuri, Bhramakumari Dr. B.K. Sarin also addressed the gathering. Mahabodhi International student presented various cultural programs.
यह खबर निम्न श्रेणियों पर भी है:
National News