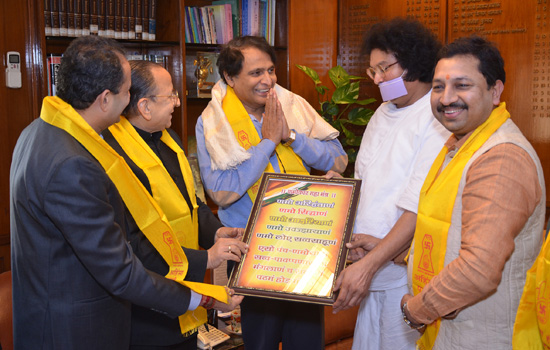 "All religions teach us Non-violence, Peace and Harmony - Acharya Lokesh
Humanity is the supreme religion we must adapt it - Suresh Prabhu"
New Delhi: Founder of Ahimsa Vishwa Bharti and eminent Jain Acharya Dr. Lokesh Muni in a meeting with Railway Minister of India Shri Suresh Prabhu discussed different aspects of establishing peace and harmony in the society. Acharya Lokesh said that all religions teach non-violence, harmony, brotherhood and peace, there is a need to promote these values. Indian Railway can play an important role in promoting these values. Religion brings us together it does not create differences. There is no place for violence, hatred and fear on the path of religion.
He said that peace is necessary for development and Bhagwan Mahavir philosophy shows us the path towards establishing peace and harmony in the society.
He informed Shri Suresh Prabhu about different Inter Religion harmony programs.Shri Suresh Prabhu appreciating different programs run by Ahimsa Vishwa Bharti in the field of Inter Religion Harmony, Campaign against drug addiction and Female Foeticide said that Humanity is the supreme religion there is need to adapt the human values.
Shri Prabhu assured that Indian Railway will give full support to promote Inter Religion Harmony and teachings of Bhagwaan Mahavir.
On the occasion senior Jain leaders Shri Subash Oswal, Shri Saurabh Vohra from Mumbai, Shri Manoj Jain, Shri Sanjay Sharma from Nimrana honored railway minister by presenting Namonkar Mantra picture and Ang Vastra.
यह खबर निम्न श्रेणियों पर भी है:
Headlines today News
,
National News