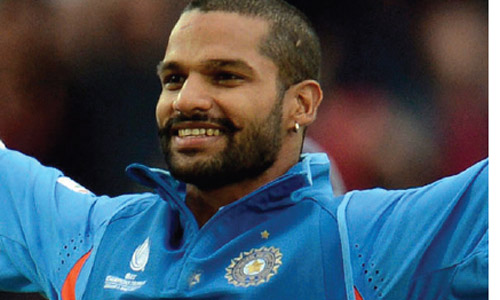 India has changed the trend of getting defeated in world cup; they scored a massive total of 307 runs and defeated South Africa by 130 Runs. India clinched a convincing 130-run win against South Africa in a World Cup match at the MCG on Sunday to break their jinx against the Proteas in the tournament. Earlier, pressure mounted on the South African batting after
their skipper AB de Villiers was run out for 30 and Faf du Plessis was dismissed for 55
while chasing 308. No team has ever made 300 while batting second at the MCG. earlier Shikhar Dhawan blazed his way to a careerbest century as India posted a commendable 307 for seven against title contenders South Africa in the second group league encounter of the ICC
Cricket World Cup, here today. Courtesy Dhawan's 137 off 146 balls and Ajinkya Rahane, who blasted his way to 79 off 60 deliveries, India posted their highest total in a World Cup game against the Proteas surpassing their previous highest of 296 in Nag pur, during the last edition of the mega-event. It was yet another mini-collapse at the death as India lost five wickets for 46 runs in the last 6.3 overs. En route his seventh ODI ton, that
had 16 boundaries and two sixes, Dhawan earned the distinction of achieving the highest score by any batsman in a World Cup game against South Africa. The Delhi left-hander's love affair with South African bowling continued and this was his second ODI hundred against the Proteas in successive ICC tournaments, after having scored one back in 2013 in a Champions Trophy game in Cardiff. The Indian top-order once again fired beautifully. Dhawan and Virat Kohli 307 India 137 S Dhawan 3/41 R Ashwin 177 South Africa again had a productive partnership that yielded 127 runs for the second wicket. Kohli (46, 60 balls) again was playing the role of an anchor before a moment's indiscretion saw him gift his
wicket to leg-spinner Imran Tahir by posting his long hop straight to Faf du Plessis at short mid-wicket. However, Rahane was in a mood to make amends for his failure during Pakistan game as he matches Dhawan stroke for stroke during their rollicking 125- run stand for the third wicket in only 16.3 overs. Rahane hit seven fours and three sixes with Dhawan, who has regained his form just when it mattered the most, started his innings
from where he had left off against Pakistan.It started with a clip off Vernon Philander
to square leg boundary followed by a square drive off Dale Steyn. Then came an attractive cover drive as Dhawan got going. Any width outside the offstump was dealt with ferocity.
The MCG track offering even bounce, the ball came to bat beautifully, just what the Delhi left-hander required. It couldn't have been a better venue for Dhawan than the MCG as
Melbourne is his second home, where he stays with his wife Ayesha and three children, when he is not on tour. He did give a chance at 52 when his flashy cut shot was dropped by Hashim Amla at backward point off Parnell's bowling but there was no looking back after that. The shot that got him his century was also just a push through the cover point region off Parnell that reached the boundary. The celebration was typically Dhawan, helmets
off, bat raised and arms stretched like wings with a sense of satisfaction in that
wide grin. His first six was a slower delivery from Steyn that he picked early while
the second one was the shot of the Indian innings. It was a flicked six by Dhawan off a Morne Morkel delivery. It was a case of pure handeye coordination as Morkel bowled one fuller onto his legs and he whipped it over deep square leg with a little shuffle. Rahane also showed why he is rated so highly by one and all. The six over long-off of Steyn's bowling was a pure delight as was his step out off Tahir to dispatch him for maximum. For South Africa, Steyn bowled a brilliant last over with four dot balls to end with figures of
1/55 while Morne Morkel had 2/59 from nine overs. Parnell recorded the worst figures of 1/85 off nine overs with consolation wicket of Dhawan.