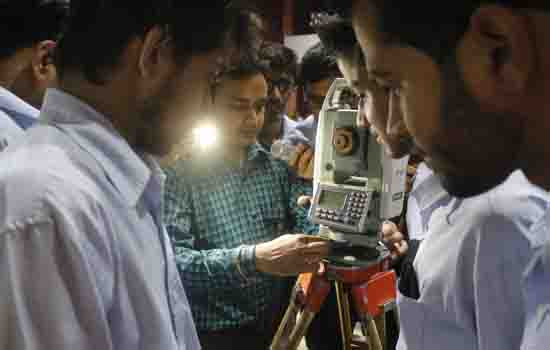 Kota: Civil Engineering Department of Career Point University successfully organized a two days workshop on "Total Station" in collaboration with Entrepreneurship Development Cell, IIT, Delhi and Wigfotech Pvt. Ltd. The workshop was held with the idea of delivering an expert tutorial and practical aspects of Designing in the field of engineering.
The prominent trainer of the workshop was Mr. Abhay Kumar Verma from Uttarakhand who shared his valuable knowledge with the students of civil engineering department, providing a skillful enhancement to them.
In the two days workshop along with theoretical learning, Mr. Verma practically demonstrated the in-field process of setting of instruments, reading, plotting and measurement of angles and distances with the total station, setting the target offset, check tie and many other useful phenomenon. By means of total station instrument, he exhibited the remote height calculation, construction stakeout, area and volume calculation and data management. Mr. Verma took the participants into field area for providing a convenient practical knowledge of civil studies and execution using the latest Total Station technology.
यह खबर निम्न श्रेणियों पर भी है:
Udaipur News