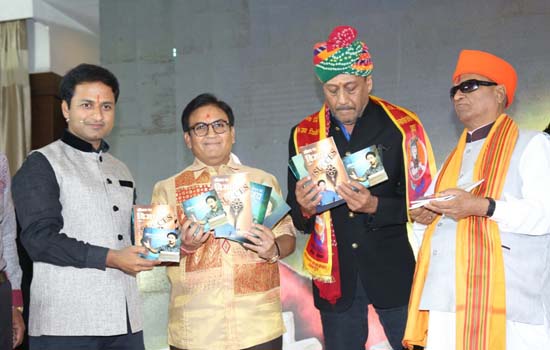 Udaipur: Narayan Seva Sansthan felicitated Jackie Shroff and Shri Dilip Joshi in a function organized at Manohar Hotel, Hyderabad by NSS officials in a grand ceremony organized. founder Chairman of the Institute Mr. Kailash Manav. Institute President Mr. Prashant Aggarwal gave detailed information of the free service projects of the institute while welcoming guests as per the Mewadi tradition.
Mr. Jackie Shroff, Chief Guest of the program, appreciated the work of the Narayana Seva Sansthan, services of children suffering from Divya and serious
Dilip Joshi, who is chaired by the program, said that Narayana Seva Sansthan is doing a very good work which is done in this world is done by the sadhus, same work Kailash Ji 'human' is doing a normal life while living a normal life. Shri Keshar Singh Rajpurohit, Smt. Alka Chowdhary, Shri Kamal Narayan Rathi, Shri Ratanlal Duggad, Shri Uday Singh Tatead, Nisha J. Shailesh Foundation, Shri Meghraj Jain, Shri Sun Prakash Bhoota, Smt. Narayani Shah, Jyotsna, Smt. Sneha, Dr. Yogiraj ji etc. were also honored
On this occasion, three editions of the book entitled"Jeevan Par Vijay " & DVD, of Dr. Prashant Agarwal were released of the Mr. Jackie Shroff, Mr. Dilip Joshi, and Founder Chairman of the Institute Mr. Kailash ' Manav'. Institute Director Vandana Agarwal thanked all the guests who thanked them. The program was conducted by Om Pal Sealan.
यह खबर निम्न श्रेणियों पर भी है:
Headlines today News
,
Udaipur News