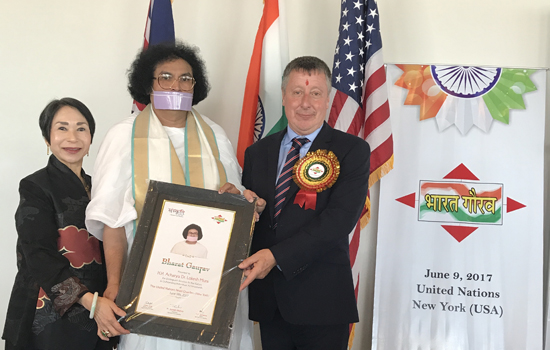 New York: Founder of Ahimsa Vishwa Bharti Jain Acharya Dr. Lokesh Muni and Founder of Art of Living Sri Sri Ravi Shankar were honored with Bharat Gaurav Award at United Nations Organisation Headquarters in New York. They are honored with prestigious award for remarkable contribution towards establishing world peace and harmony.
President of Universal Peace Federation Dr. Thomas G. Walsh and Chairperson of World Federation of United Nations Associations Andrey Kitagawa presented the award. Many Senators and Congressmen took part in the program.
In the program organised by Sankritik Yuva Sansthan representative of Sri Sri Ravi Shakar accepted the award. Prajapati Bhrhamkumari' Senior Dadi Hriday Mohini, Founder of Sulabh International Padma Vibhushan Dr. Bindeshwari Pathak, Film Producer Padma Shri Madhur Bhandarkar, Founder of T.V. Asia Pdma Shri Dr. H.R. Shah, Padma Vibhushan Dr. Kantimal Hastimal Sancheti and Dr Raj Bhyani were also honored. Many prominent people from USA, Britain, Australia, Kanada and Africa who have made India proud also received awards. Acharya Lokesh Muni accepting the prestigious award said that India is giving great contribution towards establishing World Peace. Peace is necessary for development. He emphasised the fact that people of Indian origin are working in different sectors and have mad India proud.It is noteworthy that in the year 2010 Acharya Dr. Lokesh Muni was honoured with National Communal Harmony Award by Government of India.
He has been honored by the United Nations with Ambassador of Peace Award in 2014 at UN Centre for his remarkable contributions towards World Peace & Communal Harmony. In 2006 the famous 'Ethical Honor' was conferred to him by Gulzarilal Nanda Foundation for his distinguished services in establishing Ahimsa, Peace and mutual trust in the society. Mayor of Milpitas California honored him with 'Keys of Milpitas City' for his distinguished contribution in the field of non- violence, peace and mutual co-operation. Acharya Dr. Lokesh Muni has made Indian Culture proud by addressing from many national and international platforms likes Parliament of World's Religions, United Nations Organisation and many more.
यह खबर निम्न श्रेणियों पर भी है:
international news