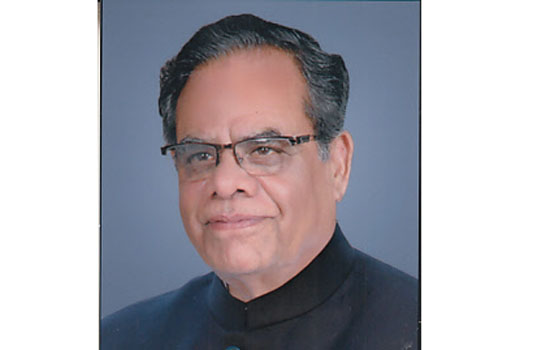 Simple and modest, N.N.G. Mathur, Dean, Faculty of Education, Pacific University, Udaipur had his school education in Ajmer, his native town. Then he did his M.A. (history), M.Ed. and Ph.D. in Education. He started his career in Lokmanya Tilak Teachers' Training College, Rajasthan Vidyapeeth Deemed University, Udaipur and was there for 33 years. Then he worked in Girls' Teachers' Training College, Pratapgarh and later on in Vidyapeeth Teachers' Training College, Kanod. Finally, he came to Pacific University. As the first Principal of Pacific College of Education, Udaipur, he used his long experience in teacher training to the best advantage in setting up the new institution and laid the foundation of healthy traditions that are being followed for over a decade.
Mathur has organized a host of conferences, seminars, workshops and other academic programmes successfully. He has presented several research papers in various programmes organized by different agencies at different places all over the country. His articles and papers have been publisdhed in educational journals of repute. Benefitting from his rich
experience of over four decades in the field of education, a large number of students have earned their M.Ed.(34) and Ph.D. (10) degrees under his guidance.
For his contribution in the field of education, he has been honoured with several awards by different organizations that include Shiksha Bharati Award by Indian Achievers' Forum, New Delhi, (2008) Sahitya Vidya Saraswati Puraskar by International Institute of Education and Management, (2009) Sahitya Vidya Jyoti Award for Individual Achievement and Intellectual Excellence. Best Citizen of India by International Publishing House, (2009) Eminent Citizen of India by IIEM and IBO, (2009) Sahitya Siksha Samman Puraskar by Indians Society for Industry Intellectual Development, (2011). International Development Award by Global Achievers Foundation (2011) in Bankok, Best Mans Award (2012) and Adhunik Prashasti Award (2012) by Friendship Forum of India (2012), Rajeev Gandhi Vidya Shiromani Award by International Institute of Education and Management, (2013) Life Time achievement Award by Lions Rotary Club and SBBJ Bank (2008) and Division Level Teachers' Samman by Rotary Club.
With his zeal to benefit his students and faculty to the best of his capability, he is popular with them and his institution has become a leading college.
Mathur leads a regular disciplined life and gets up early for his morning work out, walk and exercise and for feeding the birds. He participates actively not only in academic programmes but also social and religious activities. He tries to spend as much time as possible with his family that includes Aruna Mathur, former school principal.
यह खबर निम्न श्रेणियों पर भी है:
Contributors