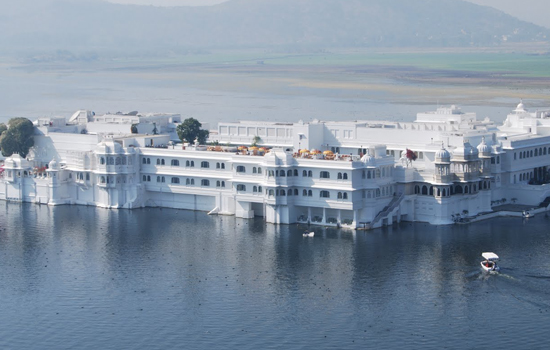 Lake City is thronged by a huge number of visitors from within the country as well as abroad. Some visit it for its scenic beauty while others are attracted by its valient past. Its unique rich heritage and religious places have a special charm for some others. However, lesser noticed are small groups of volunteers from distant lands who come here to work with some NGOs to gain more experience and return home to benefit their people with the newly acquired knowledge and skills. It would be fascinating to meet with some volunteers.
Emily Davidson who hails from Arlington Heights, USA is studying Political Science and Legal Studies (majors) and Global Health (minor) at Northwestern University. She has worked in Northwestern Study Abroad Office and as Crate and Barrel Sales Associate, Seasonal Caretaker, and Soccer Referee. Her desire for exploration and immersion in Indian culture brought her to Udaipur. As also working on women's empowerment in a traditionally-patriarchal culture. Her group spent four days a week in the Kherwara field office, and from there travelled to different villages every
day to interview girls to compile a group of case studies that represent the stories of girls involved in the program who have endured noteworthy struggles. The collection of case studies could be used for future information-gathering, applying for grants, and inspiring other girls in the program.
Emily says that through her experience in a new culture, she learnt several skills and she would use them to make an impact on her community because there are issues there that need to be addressed. Additionally, she hopes that her interaction with an entirely new culture and community would guide her in her future endeavours, as she wants to pursue a career in international law or global health, where these skills would be very applicable.
Emily adds that interviewing the girls was so eye-opening. There were vast differences of issues (whether it was early marriage, dropping out, or seasonal work migration) between villages, and even within each village based on the family of each girl. Getting to know the sector coordinators in Kherwara, was a great experience in itself. They were all so helpful when it came to their project, and when they were doing other things after our serious presentations (like card tricks), they really got to know them on a friendly level.
Jacob Salomon from Burbank, California (Los Angeles County), USA pursued a course in Biomedical Engineering and a Minor in Global Health Studies from Northwestern University (Evanston, Illinois, USA). He has previously worked with other community-based organizations, especially in connecting people to health resources/information and in increasing awareness around issues of health equity.
Salomon chose Udaipur because many of the NGOs here do work that was related to his interests. Also, he was drawn to Udaipur and Rajasthan due to the culture and history of the area. He feels that generally, working in another country with a different culture would be greatly beneficial in the future. Hearing stories directly from adolescent girls, their family, and other community members about their struggles, triumphs, and daily experiences challenged and expanded his perspective. He would take back with him what he has learned from the stories along with the experiences relating to grassroots field work and interventions working to improve social and health outcomes in a community.
He adds that it was especially interesting to hear about the reasons many girls had to leave school (financial burden, lack of support from family, demotivation from peers dropping out, etc.). Also, it was interesting to learn about the stories of girls who had internally motivated themselves to reenroll in school and to encourage their peers/family members to also continue their education.
Itzel Ivania Rosillo Robles, who holds a Bachelor's Degree in International Relations came to Udaipur to have a rich intercultural exposure and gain experience on Social Development by getting involved in different projects of Seva Mandir.
She says that in Udaipur she had the chance to interact with local population, and other international volunteers, which allowed her to learn from other people's perspectives and approaches to social issues. She also gained greater respect for both, other cultures and her own culture, as she had diversified her thoughts and values and reached a new understanding of her own cultural heritage. She also tested her ability to adapt to different contexts and showed willingness to face challenges and fears. Having these skills would be a huge asset while applying for further academic
degrees and jobs. About some of her interesting experiences in Udaipur, Robles says that the most interesting moments were when she was working in the field, collecting data for studies, since it brought her closer to a lifestyle and reality that she was not familiar to before. Exploring the city itself was an amazing experience since it's a beautiful, easy going place to live. She adds that Udaipur is full of warm, helpful, welcoming people everywhere that made her feel like home. Willing to meet new people, usually led to great conversations about absolutely different lifestyles and experiences. These conversations of course came with a great 'chai' cup and delicious meals that were a great experience itself.
MSc Social Anthropology from London School of Economics, Laerke Blom Madsen came to Udaipur to volunteer for Seva Mandir, because it promotes a participatory approach to rights and development. Back home she works for the Village Institution Program, which is at the core of this approach.
Her stay in Udaipur would benefit her work back home as having previously worked with refugees' rights in Denmark, she would return to this field with new perspectives on direct democracy and facilitating
access to rights. Madsen says that as she spent most of her time doing fieldwork south of Udaipur, the most interesting experiences in the city itself were the everyday encounters and getting to know the local community in Fatehpura, where Seva Mandir is based. She loved the bustle of Fatehsagar in the evenings, the early morning climb to Nimach Mata, daily heckling at the vegetable stands and drinking 'chai' on the corner.
She feels that she has been lucky to be in Udaipur for both Holi and the Gangaur Mewar Festival, which was both joyous and vibrant. The old city was breathtaking and she never tired of watching the sunsets over Lake Pichola or roaming the little streets, but it was the friendliness of the people in Udaipur, which made her feel at home instantly.
Aranzazu Martinez Galeana, Bachelor in International Relations, says that her main purpose was to come and volunteer at Seva Mandir and staying in such a wonderful and beautiful city was an unexpected gift. Her work in Udaipur would benefit her back home as she got more experience in the social development sector and a more accurate perspective of the challenges, strengths and obstacles that need to be overcome in the field.
Besides the professional goals, living in this country was a personal aim so it certainly has given her a deeper insight about Indian culture and society making her more able to adapt to different situations and environments. About her interesting experiences in Udaipur, Galeana says that the time she needed to get used to the city was surprisingly short and it made her feel at home easily. Her family and friends were constantly jealous every time she sent them a picture of the places she loved here. And that was quite often, she concludes.
A mechanical engineering and economics student at Northwestern University in Evanston, Illinois, USA, Maria Elena Perez who hails from Panama City, came to Seva Mandir as she wanted to work in the field of women empowerment. She wants to use her experience here to get more understanding of other NGOs working on such issues in Latin America and also how partners such as UNFPA work with local NGOs. Her most interesting experiences during her Indian stay included working in the field and visiting girls at their home and interviewing them as also working with the field staff.
Chicago based Leon Downs, who is studying history and international studies as majors at Northwestern University has experience of working as Concert Operations Manager and Clerical Aide.
For purposes of exploration and cultural immersion, she chose to come to Udaipur where she is compiling case studies for an adolscent girls programme. She thinks that her greater capacity for inter-cultural exchange and ability to adapt to new environments would help her in using her learning back home.
Downs feels that interviewing all sorts of girls and learning about their lives and aspirations helped her lerarn to put things into perspective and reassess her own privileges.
She adds that learning about and getting to know the sector coordinators who made her time in the village very interactive was full of fun.
The visits of foreign volunteers result in a win win situation for them as they get learning opportunity, as well as for Udaipur where people benefit by their services.