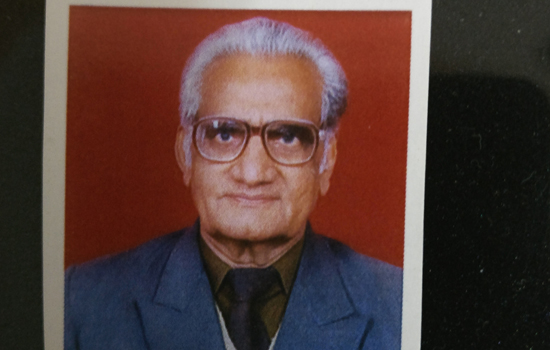 One who has made his mark in the field of education, especially in English language teacher training,Roshan lal Gupta, former Principal, ordanance factory college, Shahjahanpur, an officer class one, grade A post in the ministry of defense recruited trough UPSC, comes from Alwar district. After his schooling, there his family moved to Ajmer, where he did his graduation and post graduation with English literate from govt. college, He did his M.Ed in flying colors. He has also done a vocation course in the service education from institute of education, university of London, UK .H e was also awarded a fellowship by British govt. & did he followed a one year diploma course in the teaching of English at the institute of education, university of Lords England.
Gupta has been keely interested studies and decided to become a teacher for want of any other openings. He was not interested in his family business. Though he studied law but the profession of a lawyer did not suit his nature. He is fully contended as a teacher.
He has 35 years teaching experience. He has been a teacher trainer, Principal, Consultant, Tutor, Secretary, Resource Person, Director etc. in numerable workshops, summer institutes etc. organized at the state and national levels. By Boards of Education, Rajasthan, NCERT, UGC, CIEFL, SIERT, ect. He has been director of language lab. He has conducted over 300 courses for in-service teachers of English at various places including, Kolkata, Chennai, Hyderabad, Marathwara, Ooty, Uttarkashi, Pune, Porbander, Allahbad, Rajgir, Dharamshala, Ahmadabad, Vallabh-Vidyanagar, Panchmari, Gwarlior, Mt. Abu, Jaipur, Jodhpur, Udaipur etc. He has been fortunate enough to have had varied and rich experiences of working in teacher's colleges of Rajasthan including Vidhya Bhawan, Nimbark CollegeUdaipur, TT college, Hatundi (Ajmer), Arihant College, Udaipur and as a consultant of V.M. Open University, Kota.
He has authored more than a dozen textbooks for classes 6th, 7th and 8th, Published by RSTB Rajasthan, for 20 years. Textbook Course reader for class 9th for 18 years, textbook for class 11,4 years, Rapid reader for class 12, 4 years, Prose for English literature, currently in use-Board of Secondary Education of Rajasthan, and interactive English published by Pitambar and Book co. New Delhi. He has acted as a member in the committee of courses in English for two terms each of three years durations. As expert in English to scrutinize materials in English.He read many papers and they were adjudged first and he was awarded prized and certificates. He was selected by UPSC (Union Publish Service Commission) New Delhi as gazetted Officer, Class 1, Group A, Ministry of Defense in 1980 but as luck would have it, he was appointed Principal, Ordnance Factory College (Shahjahanpur, UP) in 1989, where he worked for 3 years and retired from there on attaining the age of superannuation.In his recent publication Essential pedagogical input (For equipping prospective and practicing teachers of English, Gupta sees education in bigger canvas ,as part of teacher education. Gupta's efforts to nourish and empower not only his students but also his colleagues, his human approach, cooperative spirit and love for student has endeared him to them and they feel proud of being his students.