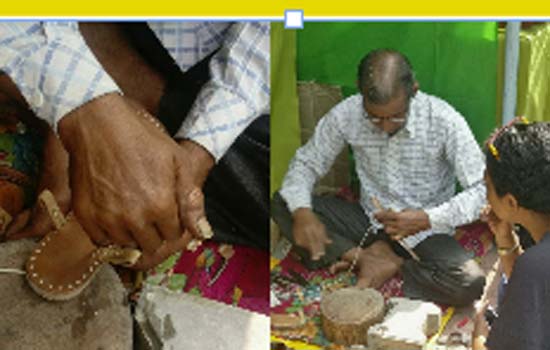 A varied collection of your most loved crafts and products inspired by the theme of the LOTUS and that embody the spirit of Nature - be it jute, banana fibers, wood carving, lacquer and Dhokradecoratives, there's something from the mix for everyone!
Radiant Banarasi brocades from Uttar Pradesh, Tussar weaves from Bihar, Kotpad weaves from Odisha, warm and vibrant woolen textiles and shawls from Himachal Pradesh, Kashmir & Gujarat. Block printed, embroidered, naturally dyed textiles intricately adorned with vibrant stitches, applique and patch work. Andretta, Khurja& Blue Pottery, furniture in wood and wrought iron and lacquer coated decoratives to bring a traditional touch to homes. Stylish woven dhurries from Rajasthan & Uttar Pradesh to adorn the floors. Silver and beaded jewelleryand exciting accessories and footwear. "The annual Dastkar NATURE event, is a much looked forward to coming together of natural materials, organic and eco-friendly practices and products, grass roots NGOs, and of course traditional and new-age crafts. At a time when we all need to be more conscious of the importance of saving our planet, come and celebrate NATURE with us." says LailaTyabji (Founder of Dastkar)
Our theme this year, inspiring both craftspeople's creativity and our bazaar displays, is the Lotus.
The Lotus is not only India's national flower, but symbolic of purity and truth. Numerous verses and sayings play on the fact that though it grows in mud it smells of incense. Lotus has been translated into every textile technique –applique, weaving, embroidery, block printing – even the intricate medium of bandini tie-dye. And you find them all over India - carved, painted and embossed in metal, wood, and ceramic, glass painting.As a special festive feature and A CELEBRATION OF THE INDIAN SAREE from 16th-25th November, will be DASTKAR's Curated Saree Preview from textile designers and master weavers like Mala Sinha of Bodhi, Weavers Studio, MalavikaChatterjee, DayalalKudecha, Taan Baan, KaushikGanguly of Tasar, Tuni Handicraft, Vriksh, Vimor, GhanshyamSarode, Sutra Handicrafts, ChamanPremjiVankar, AshaSavla, MuraliSarees Emporium, Rema Kumar, Vaya Weaving Heritage, Sanjukta Roy, Ali Mohd. Khatri, KastooriSarees, Ethnicraftz, AnkitaNaskar, Indian August, VaniVritti, RekhaKapoor, Chitransh, Ambika Devi, SEWA Banaskantha, Beauty Kantha, and Mrinalini.
Plus, cultural performances from different regions & delicious cuisines from across India.
ABOUT DASTKAR
Started in 1981, Dastkar affects the lives of more than 1 lakh artisans every year working with over 600 craft groups across 29 Indian States. We strongly believe in crafts as a catalytic tool for social and economic empowerment and earning. Dastkar's role is to help craftspeople find the opportunity, confidence & resources to become self-sufficient. Our Bazaars and Exhibitions provide craftspeople the exposure and direct interaction with urban customers, enabling them to gauge market trends and customer demands first-hand.