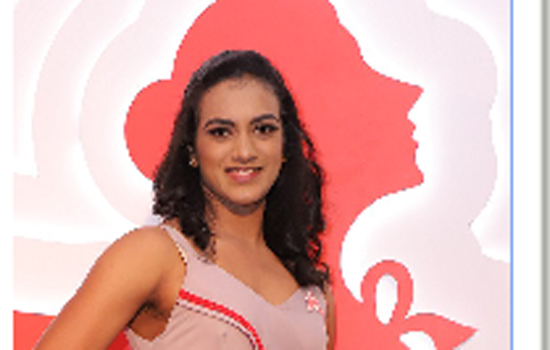 Vodafone Idea Limited, India's leading telecom service provider, today launched Vodafone Sakhi, a first-of-its kind mobile based safety service, designed exclusively for women. A bouquet of features including Emergency Alerts, Emergency Balance, and Private Number Recharge, provide safety measures through the mobile connection, to women customers using Vodafone pre-paid services across the country. It works across smartphones and feature-phones, even without any balance or mobile internet, thus ensuring that the service extends to millions of women in India.
Launching Vodafone Sakhi, P V Sindhu, renowned Badminton Star, Olympic medallist, Padma Shri & Arjuna Award Winner, said, "Mobiles have truly transformed the way people engage and interact. I believe that by extending the benefits of the mobile connection to more women, several safety and security concerns related to their stepping out of familiar geography can be addressed." P V Sindhu also flagged of 'AbRukeinKyun', a movement to empower women, encouraging them to confidently step out and achieve their dreams.
"I encourage all women to become Bold, Brilliant and Brave,explore their areas of interest, travel fearlessly and not succumb to unreasonable societal or familial pressures. Live without inhibition #AbRukeinKyun", Sindhu added
Speaking on the occasion, AvneeshKhosla, Associate Director - Consumer Business, Vodafone Idea Limited, said, "India has over a billion mobile connections and almost half of our population is women. Yet, less than 18% of mobile subscribers are women. Further, most women have access to only feature-phones and basic mobile phones. This large gap in mobile access and usage also conveys a lost opportunity to connect and empower more women. With Vodafone Sakhi, we are taking forward our long-term commitment of driving inclusion and addressing real societal problems. This unique, free of cost service will make it convenient for women to step out fearlessly and fulfil their aspirations."
Also felicitated on this occasion wasSupreet K Singh - Director & COO - Safecity / Board Director, Red Dot Foundation Group for her inspirational and pioneering work towards empowering women in rural India across the hinterland and exemplifying the spirit of 'AbRukeinKyun'.
A 360' National marketing campaign was unveiled which will drive awareness across the country.
The service is being launched through a thematic film, celebrating the overcoming of inhibitions by a young girl with the clarion call – "AbRukeinKyun?" The film has been created by an all-women crew. Another highlight of the marketing campaign is a special signature song for 'AbRukeinKyun' sung by the very talented and multi award winner NehaKakkar.
Speaking about the campaign, Siddharth Banerjee, EVP - Marketing, Vodafone Idea Limited said, "Women safety is a burning issue in our country. We have all seen cases of women holding back in their daily life on opportunities because of safety concerns. Addressing this critical issue, Vodafone Sakhi is a small step to give women the confidence to step out fearlessly and live their dreams with a trusted solution at hand.
Our marketing campaign Ab RukeinKyu? aims to connect deeply with our women consumers and urge each one of them to participate in this movement of change."
यह खबर निम्न श्रेणियों पर भी है:
Busniess News