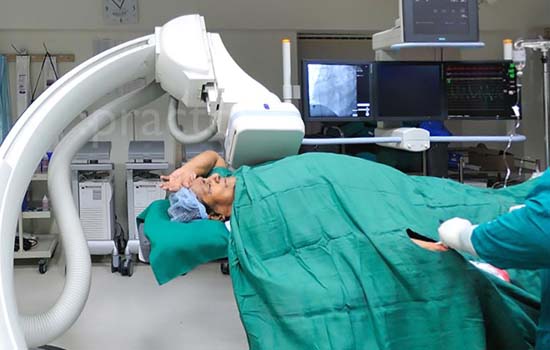 Udaipur: CIMS Hospital Ahmedabad today achieved yet another milestone in surgery by performing its third heart transplant successfully. In a record 90 minutes, the donated heart of Amit Harpati (21), declared brain dead after a road accident, was transported from Surat to Ahmedabad to help beneficiary Sohail Vora (31).
The transplant was done by Dr. Dhiren Shah, Dr. Dhaval Naik and Dr. Ajay Naik from CIMS Hospital along with other team of doctors that included cardian surgeons Dr. Manan Desai, Dr. Shaunak Shah, cardiac anesthetist Dr. Chintan Seth, Dr. Hiren Dholakiya and Dr. Niren Bhavsar and transplant cardiologist Dr. Milan Chag.
Sohail has been suffering from an acute condition of Dilated Cardiomyopathy for the last 20 years. This is a condition where the heart becomes enlarged and falters on pumping blood normally. This in turn has an adverse effect on the functioning of lungs, liver and other crucial body organs. He had got a pace maker placed 4 years back. But his suffering failed to reduce.
"CIMS Hospital has made strides in cardiac research to help patients to the best of abilities. This is the 3rd successful heart transplant done by the team. Usually, the results of heart transplant are as good as kidney transplants and we have seen that the long term survival rates are very good. Chances of the disease progressing is less when adequate care is taken. We will be monitoring the progress of the patient's response to treatment for the next 10-14 days before taking a call on the future course of action," said Dr. Dhiren Shah, Director, CIMS Hospital and a Cardiothoracic & Vascular Surgeon and Heart Transplant Surgeon.
CIMS performed its second heart transplant successfully in June this year while the first transplant was done on 19th December 2016 for a 50-year old beneficiary.
Sharing more Dr. Ajay Naik, Cardiac Electrophysiologist, Director, CIMS Hospital, Ahmedabad said "The recipient first consulted us in the year 2013. He was suffering from severe heart failure. We implanted a special device called Cardiac Resyn chronisation Therapy (CRT). He improved with it and survived for four years. With the progression of the heart disesase his problems reoccurred again. Heart transplant was the only option left for him to restore him to a nearly normal life".
Sharing more on the importance of organ donation, Dr. Dhaval Naik, Cardiac Surgeon and Heart Transplant Surgeon said "If one brain dead donates than 8 people can get benefit from life threatening diseases".
The flight for the heart transportation was provided on urgent basis by IRM Limited. Spread over 17000 sq. yards, CIMS Hospital Ahmedabad is a combination of spacious, state-of-the-art buildings with advanced medical infrastructure and the best team of doctors. It is accredited by JCI, NABH and NABL and has the credit of having performed the first heart transplant hospital in Gujarat.
CIMS Hospital in India has over 300 beds spread across two buildings connected by an aero-bridge for patients.
यह खबर निम्न श्रेणियों पर भी है:
Busniess News