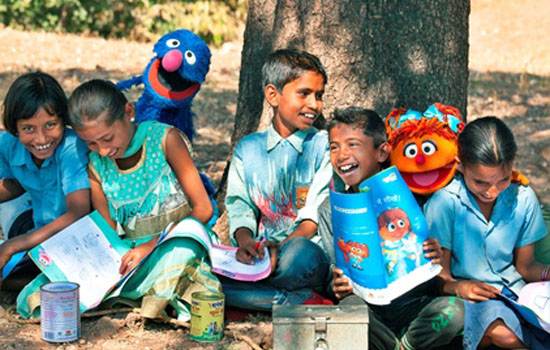 Udaipur: Sesame Workshop India, the nonprofit educational organization behind Galli Galli Sim Sim (the Indian adaptation of Sesame Street) and MetLife Foundation recently rolled out the third phase of its multimedia initiative,'Sapna, Bachat, Udaan: Aarthik Bal, HarParivarka Haq' in Jharkhand. Phase III introduces new engaging educational materials like comic strips, digital games, songs and a series of radio episodes. The Galli Galli Sim Sim radio episodes are on air in Ranchi on AIR FM 1125 KHz. Listeners can tune into AIR FM every Tuesday and Wednesday at 7:10 PM and listen to waystheir favoriteGalli Galli Sim SimcharactersGrover, Chamki and Elmosave, share and donate. The episodes also re-broadcast on every Saturday and Sunday at 8:15 PM on AIR FM 1125 KHz.
Sapna, Bachat, Udaan Phase III introduces a new digital game, ChunoaurBuno,to teach children about choices and planning.
Another new element is the Aspiration Pond,which helps children identify their aspirations-what they want to be when they grow up-and, hence, plan accordingly to achieve those goals. Kids are also enjoying the new comic strips, Dostonki Jodi, KareChahatPuriandGhar par banaye, paisebachayen,which educate them about planning, sharing and spending.
Like Hiralal, today many such young kids are becoming powerful agents of change, understanding and spreading messages of financial empowerment. They understand the importance of having dreams for their future and the strategies that can help them achieve those goals.
Such stories reflect the power of high-quality, informative and engaging content, which can help children become influencers capable of bringing about social change in their families, communities and the world at large.
यह खबर निम्न श्रेणियों पर भी है:
Busniess News