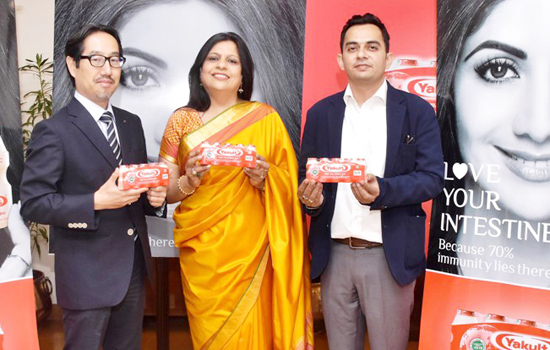 Jaipur: Having carved a niche for itself in the functional food space, Probiotic Giant Yakult Danone India Pvt. Ltd. conducted an informative session on their globally acclaimed Probiotic drink Yakult in Jaipur. The media briefing was held by Mr Minoru Shimada, Managing Director Yakult Danone India Pvt. Ltd. and Dr Neerja Hajela, General Manager - Science and Regulatory Affairs, Yakult Danone India Pvt. Ltd.
It is an undisputed fact thatconsumers are grappling with lifestyle disorder due to erratic and sedentary lifestyle, poor nutrition and lack of adequate sleep.
Therefore,there is an urgent need for finding solutions to counter this growing threat. It is a startling fact that the largest immune organ of our body i.e. the INTESTINE is vital in determining our state of health because it contains about 70% of the immune cells of the human body which improve our overall immunity and keep us protected.
According to Dr Neerja Hajela, General Manager - Science and Regulatory Affairs, Yakult Danone India Pvt. Ltd., "While we all take care of our organs such as heart, kidney, liver etc., we tend to ignore the intestine which has been proven to be one of the most important organs for determining our immunity and keeping us protected from infections.
The intestine also harbours 100 trillion organisms(intestinal flora) which weigh almost 1.5 kg and function like a virtual organ. These organisms play a very important role in helping proper digestion of food, absorption of nutrients, building immunity and producing essential vitamins like Vitamin B and K and keeping you protected. The balance of the intestinal flora is very important and often gets disturbed by several factors like unbalanced diet,stress, unhygienic conditions, use of antibiotics, pollution and ageing. This imbalance can negatively influenceboth our digestion and immunity making us prone to infections.
Commenting on global studies, Dr Hajela said, "Scientific evidence has shown that Probiotics can improve the balance of the intestinal flora by increasing the beneficial bacteria that play an important role in strengthening the digestive system, building immunity and preventing infections. In fact studies across the globe suggest that probiotics may prevent diarrhoea, constipation, common cold and cough and even reduce the risk of cancers.
In India, Yakult is being manufactured in a state of the art production facility in Sonepat Haryana. While Yakult is the most iconic brand in Japan, China and Indonesia, India is a challenging market for us because of limited awareness about the benefits of probiotics. Probiotic benefits are strain specific and it is important that every probiotic is backed by its own scientific studies.
यह खबर निम्न श्रेणियों पर भी है:
Busniess News