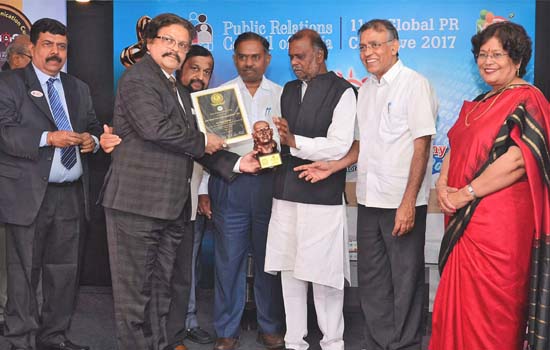 Udaipur: Mr. Abhijit Sarkar, Head-Corporate Communications, Corporate Relations & Sports, Sahara India Pariwar, Director - Sahara Force India and Guardian - Sahara Media, has been confered with the prestigious Chanakya Award for National achievers for the year 2017 as a Chanakya Juries Special Award for Crisis Communications by the Public Relations Council of India (PRCI) in the 11th Global Communication Conclave. In a grand ceremony, Mr. H. Anjaneya, Co-operation and Social Welfare Minister, Government of Karnataka conferred the award to Mr. Sarkar in Bengaluru. Also, among the annual Corporate Collateral Awards 2017, 'Think With Me Summit' 16' Summit organized by Sahara News Network has been awarded with best Corporate Event of the year.
PRCI felicitated Mr. Sarkar, who is also the most visible face of Corporate Communications profession in India, with the ace Chanakya Award for his eefective steering of communications during Sahara-SEBI Issue. His innovative communication solutions not only engaged more than 9 crore investors but also reinstated their faith and belief with the Sahara Group. Timely, smooth and targeted communications, which brings out and forwards Sahara's side direct to stakeholders, was his and his team's primary objective.
Mr. Sarkar was also presented the trophy and certificate of the best Corporate Event of the year bestowed to Think With Me Summit. Sahara News Network's 'Think With Me' - Towards Ideal Country…Greater India, Summit - 2016 organized at Lucknow.
In December 2016 the 'Think With Me' Summit was created a platform for people to think about our country, its issues and discuss how to make our country ideal and greater. The Summit culminated with the unveiling of Saharasri Subrata Roy Sahara's book 'Think With Me', on his in-depth observations on making country greater again.
The Summit and the unveiling of the book was attended by eminent personalities and galaxy of stars from across the nation.
Mr. Abhijit Sarkar has been appointed recently as Vice President of the Asian Hockey Federation (AHF) and the Chairman of the AHF Commercial and TV Committee. For his contribution to Corporate Communication in general and Public Relations in specific, he had been awarded with the 'Most Dynamic Corporate Communications Professional of the Year' in the Powerbrands Hall of Fame Awards, held in London in 2011, with Indy's Excellence Award 2008 in the field of Corporate Communications, Crises Management & PR, 'Communicator of the Year" Award, 2011 by IPRCCA, as well as 'Chanakya Corporate Communications Professional of the Year' by Public Relations Council of India.
Under Mr. Sarkar's leadership department of Corporate Communications has been conferred with many awards for its innovative and trend setting communications activities. Some of them are 'Public Service Campaign Award' (2011), 'Corporate Event of the Year' Gold Award (2012), 'Best Corporate Event' (2011), Best 'Corporate Publication' (2011), 'Most Meaningful Event (2008), 'Corporate Brochure of the year' (2006), Indy's Award 'Best In-House Magazine' (2009).
यह खबर निम्न श्रेणियों पर भी है:
Busniess News