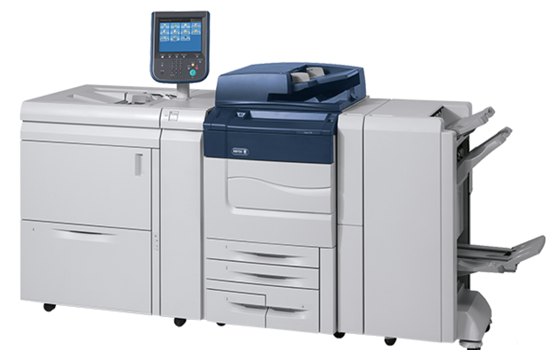 New Delhi: Xerox India, a part of Xerox Corporation, announced the launch of the enhanced version of its popular Xerox Color C70 Printers with the all new Fiery NX Pro at PrintPack 2017 in Delhi/NCR earlier this month. For the first time, a High End RIP will be available in the entry production printing space along with substantial feature upgrades focused on the media handling capabilities. These capabilities make it easier to handle a wider range of substrates to include lightweight media (60 gsm) often used for dictionaries along with heavier, more challenging stocks (256 gsm two-sided/300 gsm one-sided) used for cards or invitations including textured media.
Commenting on the upgraded device, Mr. Balaji Rajagopalan, Executive Director, Technology, Channels & International Distributor Operations, Xerox India said, "With the updates made to the award-winning Xerox Color C70 Printers, we are trying to ensure that our customers are provided with features associated with our high-end production printers at the cost of an entry-level printer. The enhanced version allows small businesses and manufacturers to enhance and expand the applications they create with increased substrate flexibility and greater image quality accuracy. We are confident that the enhancements will raise the interest for the press in SMBs & help us in expanding our reach to tier 2 and 3 cities in India, therebyadding to our overall digital printing volumes."
Other Xerox Color C70 Specifications
"The software updates and feature enhancements makes Xerox Color C70 Printer a cost-effective digital printing option for a wide range of printing needs, opening up application opportunities to print environments of any size, inclusive of synthetics, rugged polyester labels, menus, carbonless paper, never-tear paper, transfer papers, magnets, signs and vinyl window clings.
" The Xerox®C70 unique EA Toner with Ultra Low Melt technology, fuses the image to synthetic media in a chemically bonding way. It also provides excellent cost saving capabilities by reducing power consumption in standby mode by 44% compared to a resistance heating device and consumes 1/6th of the total energy consumed by most of the digital press available in this segment.
" When printing on certain specialty media such as textured linens, polyesters, and other heavyweight substrates, the new Optimal Print Quality Mode can be used. This will produce higher gloss output with optimal image quality. This mode is selectable via the Optimal Print Quality Button located on the RIP.
The Xerox Color C70 was awarded the 2016 Buyers Laboratory Production Printer PRO Award for its reliability and above average color stability on both uncoated and coated media. It now offers even greater accuracy and media flexibility. It would be available in India through our extensive channel partner network of 150 at an attractive price range.
About Xerox
Xerox Corporation is an $11 billion technology leader that innovates the way the world communicates, connects and works. Our expertise is more important than ever as customers of all sizes look to improve productivity, maximize profitability and increase satisfaction. We do this for small and mid-size businesses, large enterprises, governments, graphic communications providers, and for our partners who serve them.
We understand what's at the heart of work - and all of the forms it can take. We embrace the increasingly complex world of paper and digital.
Office and mobile. Personal and social. Every day across the globe - in more than 160 countries - our technology, software and people successfully navigate those intersections. We automate, personalize, package, analyze and secure information to keep our customers moving at an accelerated pace.
For more information visit www.xerox.com