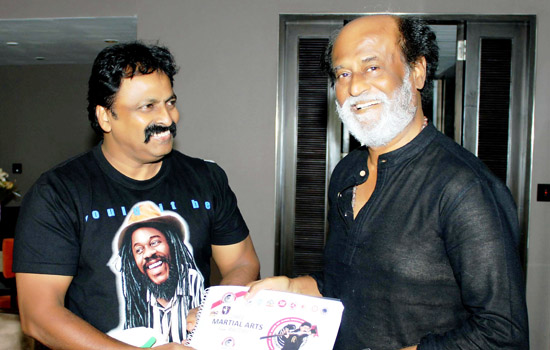 The Illustrious Bollywood's Martial Art expert and world famous Grand Master Chitah Yajnesh Shetty met superstar Rajinikant at a suburban hotel in Mumbai. It was a memorable moment when the Padma award winning actor urged him to learn his journey.The Martial Arts Guru revealed his journey from beginning as a steward till becoming an International Martial Arts Guru.Rajinikanth became emotional and embraced him and said, "You have achieved an unique art and you are not an ordinary person. In one way you are helping people to remain fit and healthy."
Thereafter Rajinikanth hugged and gave his warm wishes to Chitah Yajnesh Shetty, who was quite bewildered to find the superstar's simplicity as a human being. Yajnesh was overjoyed and his dreams came true. Speaking about this meeting, Yajnesh Shetty said, "Even after being a superstar, I am awed by Rajinikant's humble nature and simplicity. I am blessed and it is a biggest achievement in my life. I feel if you are a superstar, one should be really like him."
In the film industry Chitah Yajnesh Shetty has taught action and martial arts to more than 150 actors, actresses and superstars which includes Amitabh Bachchan, Ajay Devgn,Akshay Kumar,Hrithik Roshan, Govinda, Juhi Chawla, Priyanka Chopra, Isha Koppikar, Karishma Kapoor, Farhan Akhtar and many others.Through martial arts he has achieved fame not only in India but across the globe. American martial art council awarded him united state martial arts hall of fame as most valuable JKD instructor; he has been honoured STIMA award by guru premasiri from Srilanka and honoured him for his valuable contribution towards martial art and human welfare. Hailing from Mangalore in Karnataka and coming to Mumbai and beginning his career as a steward in Hotel Sea Rock but his passion for martial arts made him a renowned martial arts guru andworld famous Grand Master.
यह खबर निम्न श्रेणियों पर भी है:
Headlines today News
,
Bollywood News